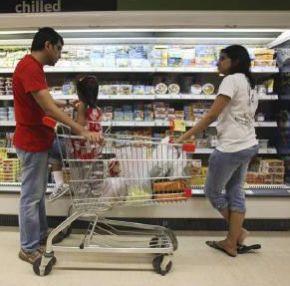 Consumer goods makers don't expect a pick-up in demand soon despite the Narendra Modi-led Bharatiya Janata Party getting a simple majority in the Lok Sabha elections on Friday.
Chief executives at these companies say the slowdown in the Rs 1.2-lakh-crore (Rs 1.2 trillion) sector is here to stay at least for three-four quarters.
"The slowdown might ease not in the next six to eight months but possibly in the next two years. Things will change but not in the short term," says Zubair Ahmed, managing director, GlaxoSmithKline Consumer Healthcare.
In the past five quarters, estimates from the sector show it has grown seven-eight per cent year-on-year against 12 per cent earlier.
Growth in cities has lagged villages as consumers troubled by persistently high inflation have cut spending in the past two years.
Against that background, says Marico Chairman Harsh Mariwala, the impact of any policy changes the new government at the Centre might initiate would be visible only with a lag.
"From levels of about eight per cent a few years ago, we are down to about five per cent in terms of economic growth now. This should be corrected but companies, especially consumer goods, will have to wait till the impact is felt on the ground," he added.
El Niño effect
The stock markets appear to have priced these factors in, with the recent rally hardly boosting the cosumer goods indices.
Between February and now, the BSE's FMCG Index grew nine per cent against 15 per cent in the corresponding period last year.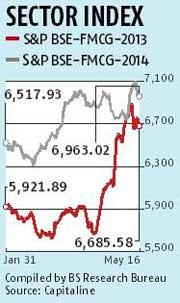 The immediate worry for most companies is the El Niño weather phenomenon likely to reduce rainfall this year.
The southwest monsoon that comes between June and September helps in the harvest of crucial kharif crops such as rice, cotton and soyabean. Lack of rainfall would mean lower farmer incomes.
Said Dabur India Chief Executive Sunil Duggal recently in an analyst call: "The monsoon effect could prove to be a little bit of a dampener in rural areas."
In the past few years, most consumer goods makers in search of growth have rushed to rural areas, from where a third of sales is coming now. In fact, Dabur gets about half of its sales from these areas.
Hindustan Unilever (HUL), the country's largest in the sector, plans low-unit or value packs for products other soaps, shampoos and detergents.
Announcing the fourth quarter earnings last month, Chairman Harish Manwani said, "Low-unit packs for Rs 5 and Rs 10 have grown faster than the category average in certain segments. This is certainly something we will focus on to see how we can accelerate growth in these challenging times."
On the other hand, Dabur, Marico, Emami and Godrej Consumer Products are increasing their urban thrust to hedge against a possible drop in rural demand due to poor rains.
Dabur's Duggal said during the call, "We are investing in urban (distribution) infrastructure.Even if urban markets continue to remain under pressure, we believe we will be able to generate better growth in urban areas. This is because much of the fast-growing part of our portfolio — healthcare and food & beverages — is urban-centric. And, if this portfolio does well, then obviously our urban growth will do well."
Procter & Gamble and Britannia are aggressively cutting costs and increasig efficiency, while Nestle and GSK Consumer Healthcare are refocusing on health and wellness. Nestle is also trimming low-margin products in chocolates and beverages even as it increases focus on its core category, noodles.