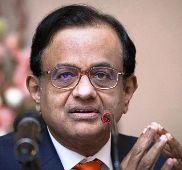 Finance Minister P Chidambaram said on Wednesday that the government is making all-out efforts to ensure that benefits of banking facilities are made available to common people.

"There is no doubt that efforts are being made on a large scale to ensure that benefits of banking facilities are made available to the people", he said.

The minister was speaking on the occasion of inaugurating headquarters of Central Madhya Pradesh Rural Bank in Chhindwara.

He said the processes for disbursing loans in education, home and agriculture sectors have been simplified so that anyone can avail these credit facilities.

On subsidised gas cylinders, the Finance Minister said, "Congress-run states have made arrangements to provide nine gas cylinders instead of six as stipulated by the Centre. . .

Non-Congress governments should also take steps to provide such relief to people."

Chidambaram praised Urban Development and Parliamentary Affairs Minister Kamal Nath, who was accompanying him, for carrying out development in his parliamentary constituency of Chhindwara.

"The manner in which he (Kamal Nath) had nursed his constituency is an example that can be followed by any public representative.

"The works done by Kamal Nath have led to the development of Chhindwara constituency," Chidambaram said.

He said under the United Progressive Alliance government at the Centre, the country is on the progressive path of economic and infrastructural development.
Image: P Chidambaram