India is considering raising the cost of gold imports, Finance Minister P Chidambaram said on Wednesday, in a bid to control a record high current account deficit that could further dent shipments to the world's biggest buyer of the metal.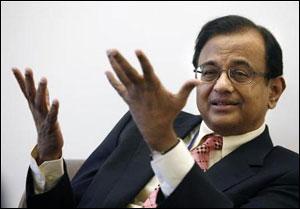 Worried by the ballooning deficit, the government in March doubled the import duty on gold to 4 per cent. Gold is the biggest contributor to the import bill after crude oil.
The deficit widened to a record high of 5.4 per cent of GDP in the September quarter due to slowing export growth, high gold imports and a hefty oil bill.
"We will let you know when (the) decision is taken," said Chidambaram, when asked whether the government was considering further raising the import duty on gold or putting in place quantitative restrictions. He did not give more details but said the decision would be taken as soon as possible.
Chidambaram said he expected gold imports to touch $40 billion in the current fiscal year to end-March, down 31 percent from the year-ago bill of $58 billion.
"As it is demand is lower and this could dent demand for gold further," said Gnanasekar Thiagarajan, director of Commtrendz Research in Mumbai.
"Because of inflationary fears, the government is not increasing duty on other essential commodities. Since this does not affect the common man, government could be encouraged to increase duty further to curb imports," said Thiagarajan.
Recently, the Reserve Bank of India executive director Deepak Mohanty urged investors to shift from physical gold as a hedge against rising prices to financial products like inflation-linked bonds.