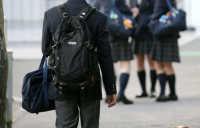 Short story from legendary Malayalam writer S K Pottekkatt shows what education is all about, says Ajit Balakrishnan


The idea of "doing something" in Cannanore, the small town in Malabar where I was born and lived my early life, struck me after I read a report that Kerala engineering colleges were being forced to admit students who scored as little as 10 per cent in mathematics in the entrance exam.
"Let's jump in and do something to solve this problem," I said to my wife, who is a teacher. "Why don't you start an annual award scheme to encourage innovative teachers? Give them some recognition and they will respond," she said.
So we set up the Innovative Teachers' award scheme, which every year offered a prize of Rs 1 lakh to one teacher who used innovative methods of teaching, each at the primary, middle and high school level.
A group of local activists and the young, enthusiastic office-bearers of the local North Malabar Chamber of Commerce pushed the scheme, held meetings to explain the entry requirements and elucidate what went into choosing the winners.
In the past few years, the scheme has seen teachers use innovative methods to teach things like the place value of numbers, the meaning of angles, and other mathematical concepts that children are normally made to learn by rote.
At a recent award function, the district collector, the panchayat president and the district education officer had all filed in and the winners of the primary and middle school categories had been announced, when I was woken up from my reverie at the announcement of the prize for the high school category.
"The prize-winning lesson plan in this category," said the nnouncer, "goes to a teacher who used a short story from our legendary Malayalam short story writer S K Pottekkatt.
The story is titled 'How I became a short story writer'."
"The teacher," the announcer continued, "first took her class to an old people's home in Cannanore; the students talked to the inmates, understanding why they were there and not with their children.
"Listening to them, the students understood that a society that does not look after its older people is not a civilised one.
"I will now read out the story by S K Pottekkatt that the teacher used:
it was an incident when I was a high school student that set me on the path to becoming a writer.
"One day, as I was doing my homework on our bungalow verandah, an old woman holding an envelope in her hand groped her way up our verandah steps.
"She put the envelope on the table, sat on the floor and told me her story. She had, over the years, worked as a domestic servant to pay for her son's education.
"Eventually, he got a job, fell in love with a girl he met at work, married her and set up his home - but separately from his aged mother."
"She then wiped her tears, cleared her nose with her tattered towel and said to me: 'Please write a letter to my son and tell him about the time I sold my gold necklace so that I could buy him an instrument box for school. Now he does not like the sight of me and has thrown me out of his house. Please write about all this so that my son changes his mind about me'."
"I felt very sad at this poor woman's condition and started writing letters to her son for her. In these letters I started adding a few things of my own besides what she told me.
"After a few months of writing such letters, her son started sending her a little money without his wife knowing about it. I am not sure whether he did this because he realised his guilt on his own or whether the embellishments I added to her story made him feel remorse.
"At that time, in my youthful mind, I believed the latter and felt proud of my writing skills. The son even visited his mother once and asked her who helped in writing those letters. When she told him that it was me, just a schoolboy, I felt a thrill."
"Unfortunately, well before the old woman could live happily with her son's financial help, she died. That old and almost blind woman was my first teacher, helping me create short stories.
"Though I am not sure now whether short stories can change anyone's mind, I look back with pride and feel that it was the short stories I wrote for her that not only gave solace to that old woman, but also taught me how to portray a mother's love and set me off on my career as a short story writer."
Hearing this story, and knowing how a teacher from a remote government school used it to teach her students, I learnt what real education is about.
ajitb@rediffmail.com