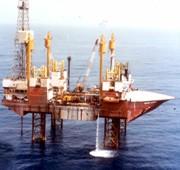 After a decade-long wait, Gujarat State Petroleum Corp Ltd expects to begin gas production from the Deen Dayal (DD)-West gas fields in the Krishna Godavari basin soon.

"The operations are at an advanced stage and we are expecting production from this block very soon.

"This can happen any time during the July-September period," a top official in the ministry of energy, Gujarat government, told Business Standard.

The official did not want to be identified.

The Gujarat government-owned GSPC had announced a gas find at the DD-west block in mid-2005. Such was the excitement for the state government that Chief Minister Narendra Modi claimed the gas find to be at 20 trillion cubic feet.

Later, the Directorate General of Hydrocarbons certified the same reserves at 2 TCF.

With gas production at DD-west expected to begin shortly, the next six months will change the fate of the state-run exploration and production player.

The development will also provide relief to the overleveraged condition of the state venture.

Burdened with huge loans of Rs 12,000 crore (Rs 120 billion), GSPC has already made an investment of Rs 7,000 crore (Rs 70 billion) in exploration and development at the block in the KG basin.

A recent statement by the energy minister, Saurabh Patel, in the state assembly showed GSPC had spent Rs 3,924 crore (Rs 39.24 billion) on exploration in the KG basin over the past
two years.
Official sources revealed GSPC raised a total amount of Rs 7,149 crore (Rs 71.49 billion) through short or long-term borrowings during 2006-11.
"Upstream business still remains attractive for E&P players.
"Once production starts from the KG basin, GSPC will reap healthy earnings.
"This will even outperform the downstream businesses," said a senior official of a private sector energy player.
The company expects a high earning potential from the sale of natural gas produced from DD-West in block KG-OSN-2001/3.
It is carrying out a price discovery exercise.
As against the Rangarajan formula that takes the average of netback of liquefied natural gas price and gas prices sold in other regions, the company wants to adopt Reliance Industries Ltd's original formula of 12.67 per cent of the average Brent crude oil plus $0.26 per million British thermal unit.
This means that the DD-West gas will cost about $14.2 per mBtu at the crude oil cap price of $110per barrel.
Experts maintained that the new pricing formula will help GSPC strengthen its financial condition.
"At this price formula, gas production and sale will be financially viable for GSPC.
At around five million standard cubic metres per day of gas production, GSPC will be able to generate sufficient revenues every day to pay off its debts," said an industry expert, who also did not want to be named.
But the price is much more than what RIL has been charging at $4.205 a mBtu.