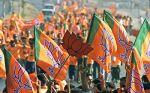 Not invited by the Janata Dal United for the Delhi rally in support of special status to Bihar, party's key ally BJP on Sunday said it would have been better had the event been organised under the NDA banner.
"It would have been better if the rally in Delhi would have been organised under the NDA banner as both JDU and BJP have equal participation in development of Bihar," actor-politician Shatrughan Sinha told reporters after addressing working committee meet.
He, however, said BJP agreed with the demand for special category status to Bihar and congratulated Chief Minister Nitish Kumar for making it a people's issue.
On a question what will BJP do if JDU decides to walk out of coalition over the projection of Narendra Modi as prime ministerial candidate and contested all the 40 parliamentary seats as pointed by JDU leader Shivanand Tiwari, Sinha said, "Though there is no chance of this but still BJP is also strong on all 40 seats in Bihar".
Earlier, former state BJP president C P Thakur had also said that the party was preparing for all 40 seats.
Cricketer-turned BJP MP from Darbhanga Kirti Azad did not find anything unusual in Tiwari's statement and said, "Every party keeps its workers ready on all Parliamentary seats."
Deputy Chief Minister Sushil Kumar Modi alleged that centre is discriminating with Bihar and said the people of Bihar cannot be fooled by the centre.
BJP's Deputy leader in Rajya Sabha Ravishankar Prasad alleged that UPA was steeped in corruption.