In view of the growing supply deficit of coal, the Planning Commission has suggested spinning off Coal India's subsidiaries into separate entities so that each one of them can pursue its own goals.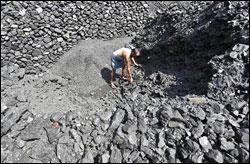 "The industry would be better served if the subsidiaries were spun off as separate public sector companies encouraged to develop their own strategies of coal development including joint venture activities and acquisition of assets abroad," said the 12th Five-Year (2012-17) Plan document.     
The world's largest coal miner CIL has nine subsidiaries that include Bharat Coking Coal Ltd (BCCL), Central Coalfields Ltd (CCL), Eastern Coalfields Ltd (ECL) and Central Mine, Planning and Design Institute Ltd (CMPDIL). CIL has 100 per cent stake in all of them.
"It is not clear that the present structure on which the operating coal companies are subsidiaries of CIL as a holding company as desirable," it added.
The document also recommends setting up of a high-level committee with the task of examining the option and asking it to submit a report within six months. 
The Plan document also suggests the need for stepping up of coal exploration to ensure availability of more coal mining blocks for both public and private sectors.  "Either CMPDIL to be made an independent organisation, or a new independent organisation should be created to develop and maintain the repository of all geological information in the country on the lines of Central Electricity Authority (CEA) for power sector, or the Directorate General of Hydrocarbons (DGH) for petroleum and natural gas sector," the document said.
It also said that in view of the need for increased coal imports during the 12th Plan, the Ministry must ensure that all mechanisms are in place which would be up and appropriate mix of long-term and spot contracts.