Dept to focus on real estate, infra, mining and manufacturing to detect evasion
With the corporate sector, especially multinational firms, flagging off concerns over an aggressive tax department, Finance Minister P Chidambaram has asked officials to tread cautiously while chasing tax evaders and avoid raids as long as possible.

Chidambaram, who has assured foreign investors of a stable and non-adversarial tax regime during his road shows, has asked the income-tax department to focus on building a tax case by gathering information from third-party sources, instead of a raid, and then confront tax evaders with that information.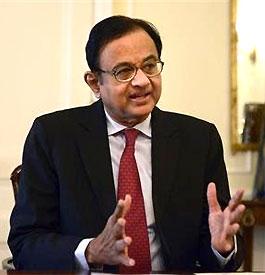 "The finance minister said our approach should be non-intrusive. We will get as much information as possible on our own and then give the tax evaders a chance to pay up their dues. There need not be a surprise element. But, of course, raids would still be required in some cases where we can't get information from other sources," said a finance ministry official who did not wish to be identified.

Chidambaram's advice came during his meeting with chief commissioners and director-generals of income tax recently. At the conference, he also asked his officers to use latest technology to detect tax evasion, increase compliance and widen tax base.

"The department will try to address systematic issues rather than focusing on individual taxpayers. We are focusing on sectors like real estate, infrastructure, mining and manufacturing," the official said.

Firms like Vodafone, Cadbury, Nokia, IBM India, Shell, LG, Capgemini, Hewlett-Packard, Gillette, and Microsoft, among others, have received tax notices in the recent past.

In January this year, the I-T department raided Nokia's manufacturing facility in Chennai after it suspected the mobile handset maker was evading taxes. Tax officials spent an entire day at Nokia's plant during the raid. They said it was usual during any search operation but Nokia did not take it lightly. It issued a press statement saying actions of the department were excessive, unacceptable and inconsistent with Indian standards of fair play and governance.

There also was a raid at the late liquor baron Ponty Chadha's premises in Noida, Uttar Pradesh. The raid led to seizure of cash, deposits jewellery and ornaments worth Rs 11.6 crore, while the department had expected much more. Moreover, there were reports of leak of information about the action. Amid this, the Central Board of Direct Taxes reshuffled the charges of its board members. S S Rana, who was handling investigations, was given income tax.

According to the latest data available with the I-T department, the number of income tax searches, called raid in common parlance, came down to 422 in 2012-13, against 621 the previous year. Officials said there would be a further drop in the current year. A disclosure of Rs 10,292 crore (Rs 102.92 billion) was made in the raids conducted last year, against Rs 15,070 crore (Rs 150.7 billion) in 2011-12. Of the total disclosed amount, assets worth Rs 330 crore (Rs 3.3 billion) were seized in 2012-13, compared with Rs 500 crore (Rs 5 billion) the previous year. On the other hand, the number of cases surveyed in 2012-13 jumped to 4,630 from 3,706 in 2011-12.

In a survey, investigators enter premises in normal business hours. They cannot seize documents or take away any valuables with them. In case of a search, investigators can enter the offices of a company at any time without prior notice and seize documents.

A raid gives immediate results to the department, while getting information from other sources might take longer. The department has currently been using third-party information from sources like Annual Information Return, Central Information Branch and also Centralised Processing Centre for TDS in Ghaziabad, to nab tax evaders. So far as personal income tax is concerned, the department sent 100,000 letters to taxpayers last year asking them to file their returns. It has already sent 70,000 such letters this year.