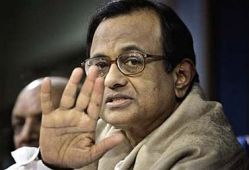 Finance Minister P Chidambaram on Tuesday asked I-T officials to focus more on those who are not filing returns to widen tax base and achieve Rs 6.68 lakh crore (Rs 6.68 trillion) collection in direct taxes this fiscal.

"Tax officials should target non-filers and stop-filers to widen the tax base and tax collections," he said while addressing top officials of the Central Board of Direct Taxes in New Delhi.

Top Income Tax officials have gathered in New Delhi for two days to participate in the national conference to deliberate on ways to widen tax base and strengthen revenue collection.

The minister emphasised that use of modern technology can yield far better results as far as tax collections are concerned than any other way.

"We are in favour of intelligence and technology-based tax collection system which is both non-intrusive and non- evasive," Chidambaram said, adding the CBDT has assured that it will not only achieve the targets for 2013-14 but would also make every effort to exceed the target.

The CBDT is focusing on non-filers and stop-filers.

As of now it has identified 12 lakh (1.2 million) such assessees and issued letters to about 175,000 asking them to declare their true income and pay taxes.

Chidambaram further said tax revenues are key to building a strong economy and called for optimal use of human resources and increasing the productivity of tax officers.

He asked the top tax officials to 'make quality assessments and issue quality orders along with speed'.

To scale up human resources, the Cabinet has cleared a proposal to create 20,751 additional posts in the Income Tax Department in various cadres.

This comprises 1,349 additional posts in the IRS cadre and 19,402 additional posts in the non-IRS cadres.

The government plans to collect over Rs 6.68 lakh crore (Rs 6.68 trillion) in direct taxes this fiscal, up from Rs 5.65 lakh crore (Rs 5.65 trillion) in the previous fiscal.
Image: P Chidambaram