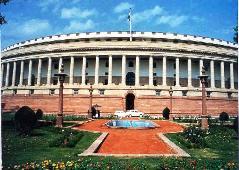 Partly unshackling the Rs 80,000-crore (Rs 800-billion) sugar industry from the government's control, the Cabinet Committee on Economic Affairs on Thursday approved a proposal to abolish the levy-sugar mechanism, under which private millers have to sell a specified quantity of the sweetener to the government at concessional rates.

In a meeting that went on for more than an hour, CCEA, chaired by Prime Minister Manmohan Singh, also dismantled the regulated release mechanism, which allows mills to sell only a specified quantity within a fixed timeframe.

According to a mechanism approved by CCEA, states will now purchase sugar from open market through a transparent bidding process and sell it cheap through ration shops.

The difference between the two prices will be borne by the Centre, but with a cap of two years.

"According to our estimate, the current market price of sugar is Rs 32 per kg, while the price under the public distribution system is Rs 13.50 per kg.

"This difference between these two prices will be paid to states. For this, the Centre will bear an additional subsidy burden of around Rs 2,700 crore (Rs 27 billion),"
Food Minister K V Thomas told reporters after the meeting.
He also assured there would not be any increase in the retail sugar price, as ample sweetener was available in the market.
However, if the difference between market price and ration price rises during two years (up to September 2014), the extra burden would have to be borne by states.
The sugar season runs from October to September.
Earlier, there was a proposal to increase the excise duty on sugar from the current Rs 93 a kg to make up for the loss due to higher subsidy, but CCEA did not decide on that, Thomas said.
"CCEA also did not take a decision on raising the import duty to compensate for the increased subsidy," he said.
With on Thursday's decision, the Centre has given a major push to sugar sector decontrol.
This follows a recommendation of the C Rangarajan committee on sugar decontrol.
Other parts of the panel's recommendations -- reserving sugarcane area and abolishing a criteria that fixes the distance between two sugar mills -- are in states' domain.