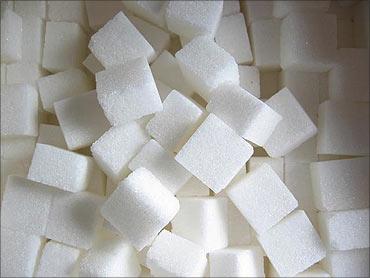 The government on Thursday gave sugar mills freedom to sell in the open market and unshackled them from the obligation of supplying the sweetener at subsidised rates for ration shop -- a decision that will help the industry save about Rs 3,000 crore annually.
The government maintained that the decision will not lead to any rise in retail prices of sugar. However, it would double the government's subsidy burden to Rs 5,300 crore annually from about Rs 2,600 crore.
The decision to partially decontrol sugar sector, the only industry left under the government control, was taken by the Cabinet Committee on Economic Affairs (CCEA).
"The regulated release mechanism may be dispensed with immediately. Obligation of levy on sugar mills be done away with for sugar produced after September 2012," Food Minister K V Thomas said.
Under the regulated release mechanism, the Centre fixes the sugar quota that can be sold in open market. Of late, this mechanism has been relaxed and the quota is now being released on half-yearly basis from the earlier monthly-wise.
In levy sugar system, millers are required to contribute 10 per cent of their output to the Centre for running ration shops at cheaper rate, costing industry Rs 3,000 crore a year.
Thomas further said the requirement of sugar for ration shops may be procured by states through open market through transparent system.
"The Government of India will bear the difference between the ex-mill price of Rs 32 per kg and retail sugar price of PDS at Rs 13.50 per kg," Thomas added.
The government will continue to fix fair and remunerative price of sugarcane. The minimum distance criteria between two mills will also continue, among other controls.