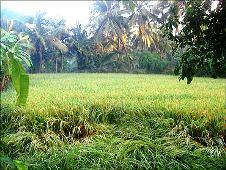 I want this, we want this, she wants this, they want this. . . there's no dearth of voices before the annual Union Budget.

Industry bodies, lobbyists and anyone with access to a computer at workplace writes his/her wish list from the finance minister.

But what about the ones on the field literally?

We live in a country that is around 60 per cent agrarian, with the whole economy relying on farmers.

Yet, is this community's voice heard loud?

No, because they are busy at the farms.

This bottom of the pyramid population, feeding the country's stomachs wants reforms which hold the key to agricultural growth and not concessions.

Here's what the President of a Panchayat with 150 farmers has to say to Mr Chidambaram.

The demands of this population are financial reforms to ensure credit flow, a good risk mitigation system, an efficient extension services mechanism, fair prices and better earnings.

Farmers also want the government to raise public spending, allow private investment in agriculture and take steps to curb the rampant cheating in markets.

The major hurdle faced by the Indian farmers is debt.

Though the Union government faces constraints due to a sluggish 5.5 per cent growth rate in the current fiscal, debt-ridden farmers should be bailed out completely or at least partially by waiving the interest component.

More focus should be on increasing the reach of farm mechanisation to small and marginal farmers and to the regions where availability of farm power is low, by financing several schemes and programmes.

The constantly increasing input prices are not balanced against the nearly constant value obtained by marketing the produce.

Hence the scope for sustaining agriculture lies only with improved farming technologies and sustainable practices like the system of rice intensification, precision farming, and hence, better livelihoods.

Such technologies should be made as policy declarations in the Budget.

Access to market information should be made a fundamental right of the farmer; hence developing seamless structures for real time information dissemination should also be a part of the agenda.

The government should also include formation of public private partnership ventures in such system building.

Indian farmers are highly vulnerable to climatic change, the point more obvious from the drought due to the monsoon failure in southern states like Tamil Nadu.

The government's flagship scheme, Mahatma Gandhi National Rural Employment Guarantee Act should be directed towards creating long-term valuable assets and protect the natural resource-base through activities
like the building of check dams and afforestation, thus aiding the farmers to counter the effects of climate change.
For a country whose agricultural activities are highly governed by monsoons and seasons, sufficient infrastructure should be developed in rural areas to increase employment opportunities and stop migration to urban cities during non-farming seasons or crop failures.
This should involve more fund allocation to value addition of produce.
Processing/value adding hubs/clusters should be promoted.
The country's food chain has several loose ends and needs to be modernised.
Less than three per cent of the fruits and vegetables produced have any cold chain infrastructure leading to a 15-25 per cent wastage.
A big policy push is expected from the Union government in the Budget for building warehousing and cold chain infrastructure in the country.
Allocations like rural infrastructure development fund should be exclusively made for creation of warehousing facilities.
Service tax exemption for warehousing services and classification of all warehouse receipt financing of agriculture produce as 'priority sector' lending are the other latent demands in farmers' minds.
The government needs to give the right signals to investors inthe warehousing and cold chain infrastructure space, as many avoid such infrastructure projects due to their lengthy payback period.
Post Budget 2012, National Bank for Agricultural and Rural Development announced an interest subvention and re-finance scheme through banks that lend to such warehouse infrastructure projects.
Unfortunately, for reasons not known, Reserve Bank of India objected and thescheme stands scrapped. This Budget holds hopes on clarity on this issue.
Existing subsidies for standalone cold stores are inadequate thus affecting the integration of cold chain across the value chain; hence government support is required in a big way to make it commercially viable.
This gap should be should be eliminated by large-scale public-private partnership projects, with the government contributing more.
Not just India, but the whole world is running pell-mell trying to solve the food puzzle.
It is high time the FM takes note of the great opportunity that India has and come out with strategies and announcements that can help make India a food export hub rather than focus on short term votes.