Bank of America Merrill Lynch (BofA-ML) on Friday said growth, which dipped to 4.5 per cent for the December quarter, has not yet bottomed out.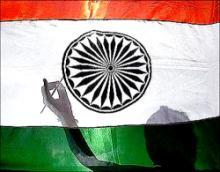 The US brokerage house also revised downward its FY14 growth forecast to 6 per cent from the earlier 6.2 per cent.

It called for urgent measures from the Reserve Bank to revive the sagging growth and said it expects Governor D Subbarao to announce a reduction of 0.25 per cent each in its key lending rate in the March as well as May policy announcements.

"There is no sign of growth bottoming out," BofA-MLIndia chief economist Indranil Sen Gupta said in a note prepared after the Q3 data points were made public last evening.

The Budget has pegged FY14 GDP target at 6.1-6.7 per cent, while that for this fiscal at 5 per cent.

The economy in the first three quarters clipped at 5.16 per cent, with the first half growth being at 5.5 per cent. But unexpectedly, the Q3 numbers hit a 15-quarters low of 4.5 per cent.

The Reserve Bank, which is seen to hold rates at elevated levels due to the uncomfortable inflation, should take the lead and cut rates in view of the deeper problems on the growth front, he said.

Based on the assumption of the twin rate cuts, a good monsoon, the report said the country will clock a 6 per cent growth in 2013-14, which is lower than its earlier estimate of 6.2
per cent.
For the ongoing fourth quarter of FY13, it cut its estimate to 5.1 per cent from the earlier 5.5 per cent as the services sector growth dropped more than expected in Q3 while industrial growth has started inching up.
The RBI will be doing liquidity infusion by government bond buybacks or open market operations of Rs 20,000 crore (Rs 200 billio) by March.
The availability of liquidity will help banks in transmission of the policy measures by cutting their lending rates, the report noted.
"This improvement in bank liquidity should pull down lending rates by 0.75 per cent by March 2014, atop the 0.50-0.75 per cent this fiscal," the note said.
For FY14, BofA-ML expects the banking system to clock a credit growth of 14.2 per cent down from 16.8 per cent due to the high lending rates and a deposit growth of 15 per cent from the present 13 per cent as the liquidity improves.