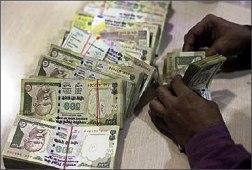 Falling for the first time in three days, the rupee on Tuesday lost 23 paise to end at 54.09 due to month-end dollar demand and a steep fall in local equities.

The local currency commenced lower at 54.03 a dollar on Monday's close of 53.86 at the Interbank Foreign Exchange market.

Later, it moved in a tight range of 54.00-54.22 before ending at 54.09, a fall of 23 paise, or 0.43 per cent.

In the last two sessions, it had gained 87 paise, or 1.60 per cent.

Forex dealers said, however, some capital inflows and weak dollar overseas cushioned rupee's fall to some extent.

"The rupee today completely followed the local equity markets' trend.

"Fears over the Italian election results which might hit the euro-zone crisis also affected the trading sentiment here," said Ashtosh Raina, chief dealer at HDFC Bank.

He added that forex market is expecting some positives on containing the fiscal deficit and borrowing side, which might boost the rupee
sentiment. "Rupee will move in the 53-55 range this week," Raina said.
The BSE benchmark Sensex today nose-dived by 317 points, or 1.64 per cent, to 19,015.14 due to hike of up to five per cent in freight charges by Railway Minister Pawan Kumar Bansal in Rail Budget.
Foreign institutional investors bought local equities worth nearly $14 million (Rs 74.68 crore), according to the BSE provisional data.
Pramit Brahmbhatt, CEO, Alpari Financial Services (India) said, "Rupee ended the day on a weaker note.
The rupee lacked clarity from most parts of the day today, hovering in a band 22 paise.
"No clear cues were seen ahead of the crucial Budget to be unveiled on February 28."