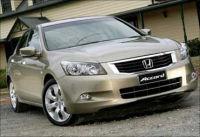 Premium car-maker Honda Siel Cars India on Monday launched an upgraded version of its Accord luxury sedan, priced between Rs. 19.60 lakh and Rs. 25.41 lakh.
"Our belief in constantly upgrading our products based on customer feedback prompted this launch of an upgraded version of the Accord with unique styling in combination with luxurious features," Honda Siel Cars India President and CEO Takashi Nagai said in a statement. The Accord has registered sales of over 25,000 units since its launch in India, he said.
The company had launched the eighth generation Accord in May, 2008, with 2.4-litre and 3.5-litre engine options.
The new Accord will also be available in two options, a 2.4-litre
version costing Rs. 19.60-Rs. 20.36 lakh and a 3.5-litre variant with a Rs. 25.41 lakh price tag.
"The new Accord has more style, more comfort and more sophistication than ever before. A bold and aggressive look and striking interiors will make it the most commanding premium sedan on Indian roads," the company said.
The company, which is a joint venture between Japanese auto giant Honda and the Siel group, has so far invested Rs. 1,620 crore (Rs. 16.2 billion) in India.