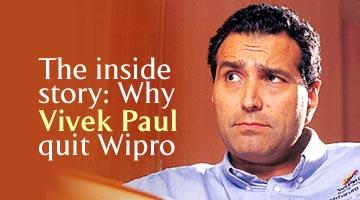 On May 5, Wipro vice chairman Vivek Paul walked into the second floor Bangalore offices of Wipro executive vice president (human resources), Pratik Kumar. The meeting was unscheduled.
Paul told Kumar about a certain sense of 'restlessness' that had seized him lately. He disclosed how he 'was evaluating to do something else'. Kumar thought Paul was at a stage 'where he wanted to make a decision'.
After the conversation, Kumar lost no time in speaking to Wipro chairman Azim Premji on what had transpired between him and Paul. Premji seemed to be aware of what was going on in Paul's mind. He simply expressed his quiet disappointment to Kumar.
DON'T MISS: Interview with Vivek Paul
Barely a year back in June 2004, at the annual general meeting, Paul had been re-appointed vice chairman.
The next day, some 550 Wipro employees gathered at Goa's Hotel Marriott for a six-day bash. It was to celebrate the year gone by when the tech major had breached the $1-billion sales barrier. Executives who were present in Goa found Paul unusually emotional. But nobody was surprised.
"He had achieved so much that to be impassioned wasn't surprising," says a senior employee.
Soon after the Goa meet, Paul informed close associates within Wipro of his decision to quit. Meanwhile efforts were on to convince Paul to change his mind.
Quite a few senior Wipro officials, Premji included, spoke to Paul to understand why he was quitting and if anything could be done about it. But Paul, who had been grappling with the idea since December 2004, wasn't prepared to change his mind.
On June 29, he formally put in his papers from the United States -- an inevitability that the board accepted, almost immediately. The following day, Wipro announced that Paul was leaving and that A L Rao, till then president (telecom solutions), would become the chief operating officer.
The same day, Premji sent out an internal memo to all employees acknowledging Paul's contribution to Wipro. In the memo, he announced the setting up of two task forces -- one under Ranjan Acharya, vice president (corporate HRD), to look at leadership issues. The other under Sudip Nandy, chief strategy officer and Girish Paranjpe, president (finance solutions) to assess Wipro's future strategy.
The following day, the Wipro stock on the Bombay Stock Exchange closed at Rs 744.80, Rs 20.75 (or 2.71 per cent) lower than the previous day's closing price. Analysts, however, attributed the decline to a knee-jerk reaction. Within a week, the stock had recovered.
To understand what led to Paul's departure and what Wipro needs to do next, it's important to assess Paul's legacy. In an interview to Businessworld, Paul mentioned that some of his senior colleagues had issues with his prima donna status.
But as someone familiar with Paul argues: "Wipro couldn't satisfy Paul's ambitions any longer, and that had something to do with his departure."
Paul joined Wipro in July 1999. Ashok Soota, the then vice chairman, had just quit to set up MindTree Consulting. Paul's mission was to put Wipro, then a small $150-million company, among the top 10 global IT companies. Paul had impressed Premji during his stint at GE Medical Systems; Premji believed that Paul could deliver.
A strategy document blandly titled '4X4' was unveiled in 2000. This articulated the company's key goal -- to hit a turnover of $4 billion by 2004, of which $1.6 billion would come through acquisitions and the rest via organic growth.
Automatically, this would help the group move up the value chain in the global software industry and transform Wipro -- from a mere executor of projects to a genuine IT consultant.
But this would necessitate some changes within the company, the most significant of which would be cultural.
"By the time Paul took over, the external environment had changed. Indian IT services now had competition from China and other parts of South-east Asia and the global services giants had begun to move into India. Customers wanted more than cost arbitrage and Wipro needed a global face. Paul lived in the US and knew how to work the market there," adds the executive. But all this would earn Paul more foes than friends.
As Paul says in his interview, Indian managers are "in a cocoon" and don't really understand what it takes to succeed. "In the real world, there is no cocoon."
On October 19, 2000, Wipro was listed on the New York Stock Exchange. That very day, both Paul and Premji met with the chairman of an undisclosed consulting firm with an intention to acquire it. But sensing integration challenges, Paul backed out.
But then, how would Wipro, with revenues of about $491 million and 9,993 employees in 2000-01, get to its audacious goal of $4 billion by 2004, barely four years away?
Paul defends his decision: "We went back and forth several times on acquisitions. I had seen the US corporate scene and how it was devastated by poorly planned acquisitions. Transitions can be brutal and I did have this fear. Would Wipro be able to manage it?"
According to company insiders, plans for a big-ticket buy of a consulting firm may have been put on the back burner, but was never ruled out -- at least, not by Paul. In mid-2002, he came close to a $650-700 million acquisition in the US, but it never fructified.
"If that had gone through, Wipro would perhaps have been closer to the $4-billion target," says the head honcho of a Mumbai-based IT services firm.
And while Wipro did go on to make smaller acquisitions, none save Spectramind (a BPO outfit bought in July 2002) were significant enough to push revenues towards the $4-billion mark.
"Even with Spectramind, it was clearly staying within familiar territory. It primarily brought delivery capabilities. Consulting is unfamiliar territory. You need to have a team of people with the right mindset on your side to digest that kind of acquisition," says a former senior Wipro executive based in the US.
It's not exactly clear whether Paul's inability to deliver a target that he had set himself became an issue within Wipro. Says Suresh Vaswani, president (infotech, global testing and infrastructure services): "The Vision 2004 got hyped up too much. That was basically meant to be a directional statement and we did achieve most of it."
Paul asserts Wipro did make the global top 10: "In terms of brand, market capitalisation, execution skills, and the number of people, we did get there. Of the $4 billion, $1.6 billion was to come through acquisitions. But later we decided against big acquisitions."
It would be wrong to say that Wipro didn't make any acquisitions. While competitors like Infosys sat on cash and avoided acquisitions, Wipro spent close to $150 million to buy firms in the BPO and consulting space between June 2002 and June 2003. It acquired Spectramind for $108 million to get into the BPO space, followed by a $24-million buyout of AMS's global energy business in November 2002, and $17 million for NerveWire in May 2003 to gain expertise in consulting in the financial space.
In fact, many say that during this time, Paul was on a roll. Just before the acquisitions, Paul increased sales and marketing spends by 47 per cent in 2001 and trebled the sales staff in the US.
In fact, Paul took a bet that 9/11 and the subsequent tech slowdown would send more projects along India's way as companies in the US were vigorously cutting costs. But the prolific spending to attract business took time to pay off. And the tech meltdown also impacted Wipro adversely in the short term.
From growing at 63 per cent in 2000, Wipro technologies' topline growth fell to 28 per cent in 2001, and then to 24 per cent in 2002.
But it finally did pay off. In 2002-03, Wipro grew 25 per cent compared to the previous year; in 2003-04, 43 per cent; and in 2004-05, 39 per cent. In March 2005, Wipro touched a turnover of $1.87 billion, having breached the $1-billion figure a year earlier.
In six years, Paul had increased Wipro's sales by over 10 times. Over the same period, Infosys had grown eight times, while Satyam Computer Services grew nine times and HCL four times.
Yet, through all this, resentment was building up against Paul. He was becoming too visible, too much the poster boy. Time ranked Paul among the 25 most influential business people in the world. BusinessWeek put him on the cover.
Wipro has always had a somewhat self-effacing culture. Premji epitomises that. So do many of his colleagues and some of Wipro's best-known alumni.
But not everyone grudges Paul's fame. Some younger managers believe he was the best choice as spokesperson for Wipro. Also, those who know Premji well say that he is too gracious (and self-assured) a person to feel upstaged by Paul.
But many of his senior colleagues, particularly those who have been around for decades, perhaps did. The closest somebody came to admitting it was Paranjpe. "Paul had become more of a brand ambassador," he said.
While Paul doesn't link his exit to how his colleagues felt, the issue bothers him. "There was resentment," he says. And he points to an exercise done a year and a half back, where the column-centimetres of publicity that he got was measured against what other senior managers got.
Someone who knows Paul says that he is a high-energy person who doesn't see any challenge left in Wipro. "For Paul, growing the business from, say, $1.6 billion to $4 billion is less of a challenge than growing it as he did in the last six years; he needs new challenges," he says. Also, Paul was keen on spending more time with his family, based in the US. These reasons, combined with his reading of the situation within Wipro, led to Paul's resignation.
For Premji, it was a delicate predicament. On the one hand, he had a star performer who had delivered. On the other, his loyal, old guard was increasingly becoming resentful. And something had to give.
So what does Paul's exit mean for Wipro?
Losing a CEO does bring a certain amount of churn in its wake. A Bangalore-based head-hunter says that suddenly there are a lot more Wipro CVs in the market. But Wipro has lived through many upheavals in the past.
When Soota quit with a handful of senior managers in 1999, it was considered almost cataclysmic in the short term, but Wipro survived.
What is sometimes forgotten is that Wipro has a team of professionals almost wedded to the firm. They may lack Paul's charisma, but they know their job. Then, there's Premji.
The business prognosis too seems encouraging. The company closed fiscal 2004-05 with a 39 per cent topline growth and the market expects it to sustain these growth rates in the current fiscal.
"The earnings outlook remains robust. Wipro is expected to bag a couple of very large contracts this year from GM and Shell. Valuations should stay reasonable," says a Mumbai-based equities analyst. A few days back, news reports said Wipro was gearing for a really big-ticket acquisition in the US.
Paul himself is a proponent of this view. "In the short term, Wipro is in a great position. The tail-wind is with us. The challenge is two years out."
One reason for this new challenge is that competition is no longer restricted to the likes of Infosys or Tata Consultancy Services, but more from HP, IBM and Accenture, who are fast building offshore capability. Other than IBM, each has over 10,000 people in India. IBM has over 20,000.
Innovation is, therefore, key for Wipro (as it is for TCS and Infosys). "Indian companies have focused on building delivery capabilities and under-invested in the front-end," says John C McCarthy, group director, Forrester Research.
Wipro's peers appear to have made some moves in this direction. TCS has entered into a joint venture with Microsoft to address the China market, while Infosys has been paying top dollar to get the right global talent for its consulting business.
"Wipro needs to start making some moves now. Two years from now will be too late," says a former Wipro executive.
"What is disconcerting is that the senior team is made of old hands, who have been around for almost 20 years. This means there will be stability, but no creativity," says another executive.
The new team has its task cut out. The BPO business, which is in the process of being merged with its parent firm, has to flip over from a voice-based business (80 per cent voice) to one based on high-end transaction processing. The transition will not be easy.
Smaller, independent competitors like ICICI OneSource and WNS have a head start, and with attrition rates nowhere near manageable levels, Wipro will find it tough to recruit the right skills in a competitive market.
Raman Roy's exit -- the founder CEO of Spectramind headed the BPO business after the acquisition -- just prior to Paul makes the task that much tougher. The merger is also aimed at aligning the BPO business more closely with the IT business.
The integrated (IT plus BPO) play has so far proved a tough call for the likes of Infosys and TCS.
Then clients could wait for clarity from Wipro in terms of who is in charge. Counters Sudip Banerjee, president, enterprise solutions: "One vice chairman has been replaced by three CEOs. There's no concern among our customers as to whom to contact."
Premji has always had a strong No.2: Soota and then Paul. This time, no successor was announced. Instead, three people -- Banerjee, Rao and Paranjpe -- have been made de facto CEOs.
Simultaneously, the number of direct reports to Premji has gone up from eight to 13. "It's a decentralised, two-tier structure," says an old Wipro employee. The structure may stay for a while, though there may be pressure on Premji to appoint a professional CEO.
Industry observers see this structure in a different light.
"Clearly, strategic decision making will be centralised with Premji. Paul had a relatively free hand while he was at the helm. The new team may not be given the same privilege," says a former senior executive.
The Processes man
In the year 1999, for about six months after Vivek Paul took over, Sridhar Mitta had a cabin right next to him. Mitta was then at EnThink, a US-based company in which Wipro had invested.
Mitta found that Paul was always at hand when he was needed. He had a lot of time for customers too. As the former global R&D head of Wipro, Mitta knew the company and its methods inside out. Mitta had seen Paul's predecessor Ashok Soota working almost 17 hours a day.
"How do you have so much time?" Mitta asked Paul one day. "It is all in the process," Paul had replied.
Wipro was a $150-million company when Vivek Paul took over, and it had all the tendencies of a small, traditional company. Throughout the 1980s and even in the 1990s, many people had joined Wipro thinking that they would retire from there.
In fact, Wipro used to entice people away from public sector companies telling them that they would get similar benefits when they retire. Such a company tolerated periodic laggardness. "You could live for some time on your past achievements," says Mitta.
Things changed quickly after Paul took over. He brought with him both an advantage as well as a disadvantage. He was based in the US, and hence, could not be a hands-on manager beyond a point.
Paul turned his distance to the company's advantage. He built in processes so that Wipro would run smoothly without his daily intervention. The company was ready for such a transition; it was growing big and could not have survived without better processes.
Paul had come from GE, the most global of companies. Then he joined Wipro, which was an Indian company to the bone. Paul immediately made its employees think big and think global. This was a complex shift in attitudes, as thinking global is not merely about having global customers.
"Paul created a genuinely global mindset within Wipro," says Anurag Behar, managing director, Wipro Fluid Power, and corporate vice president (brand and communication), Wipro.
Paul did not know the achievements of old Wiproites. Neither did he care. For him, all that mattered was the present. This shift in approach shook the company. In due course, most people coped with the change. Those who did not, left.
Wipro quickly trimmed its fat: it no longer had people without projects or projects without people. Running all the time is a great way to stay trim.
Paul was, in many ways, an 'offline' manager. He did not sit with people as they worked. Neither did he follow traditional norms like experience when choosing someone for a job.
He picked up a young Vikram Gulati out of nowhere and asked him to grow the package implementation business to $100 million in three years. Gulati grew it to $150 million in four years, before he left a few months ago.
Paul's legacy includes minor things as well -- things that seem minor until brought close and magnified. For instance, he introduced online weekly broadcasts. Paul would religiously go through events in the company the previous week, pick out the most important, and then send them out to all employees.
Before that, Wipro employees were on an annual cycle. Suddenly, they started seeing mails from Paul every week, with names of their colleagues in them. How could I get in the next broadcast? March was a long way off. Something needed to be accomplished immediately.
Paul restructured the organisation, expanded Wipro's markets and formulated a new vision. There was admiration, goodwill, resistance, resentment and genuine puzzlement.
Paul tried to change things that could not even be touched with a pole. For example, when he tried to change R&D from a separate, sacrosanct space, one of the senior managers told him: "You are stupid."
But Paul tolerated dissent as much as Premji did. This was one of the features of the company he did not try to change.
-- With reports from P Hari
Powered by