Better tax realisation and some savings on expenditure may help trim the fiscal deficit to around 5.1 per cent of the GDP for 2012-13, Finance Ministry sources said.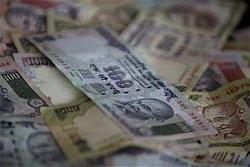 Finance Minister P Chidambaram in the revised estimates for 2012-13 projected a fiscal deficit of 5.2 per cent, which is now likely to be revised in light of better than expected revenue realisation and savings, the officials said.

As per the current estimates the indirect tax collection for 2012-13 is expected to exceed the figures projected in the revised estimates, sources said, adding the actuals are still being worked out.

The government, as per the revised estimates, was hoping to collect Rs 4.69 lakh crore (Rs 4.69 trillion) from customs, central excise and service tax.

As far as the government expenditure is concerned, sources said, there will be a saving of Rs 10,000 crore (Rs 100 billion) over and above the revised estimate for 2012-13.

The revised estimates had pegged total expenditure for the last fiscal at Rs 14.30 lakh crore (Rs 14.3 trillion).

Chidambaram
had went the whole hog to contain the fiscal deficit by compressing expenditure and making extra efforts to improve revenue collection.
He estimated fiscal deficit for 2012-13 at 5.2 per cent, lower than the revised projection of 5.3 per cent for the financial year. The fiscal deficit is now likely to come down further.
Prime Minister Manmohan Singh in his address to industry chamber CII on Wednesday said high fiscal deficit is unacceptable. "We are determined to do everything possible to achieve the fiscal deficit target," he said.
As per the road map, the government aims to bring down the fiscal deficit to 4.8 per cent in current fiscal and further to 3 per cent of GDP by 2016-17.