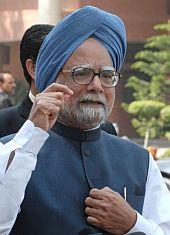 In a significant message to the private sector, Prime Minister Manmohan Singh on Wednesday said government's relevance in growth story cannot be discounted and asked the industry to have faith in the executive.
Singh conceded that the government is not the "prime driver" of growth in the private sector led economy, but the sector needs an environment in which enterprise can flourish.
"In 2007, I often heard it said that government had become irrelevant because India will grow at 9 per cent whatever the government does."
"The consensus today is that unless the government acts swiftly, our growth, which has already decelerated, will be perennially stuck at 5 per cent. Naturally, I welcome the rediscovery on the part of business of the importance of government!," Singh said at CII annual general meeting.
Recalling his last address at CII's AGM, which was seven years ago, Singh said he had chosen to strike a contrarian note even as everything seemed to be going exceptionally well.
"I struck a note of caution. Some of my friends later told me that my remarks seemed unnecessarily downbeat at that time, but you will agree that these are precisely the issues that began to receive global attention in the aftermath of the global economic crisis.
"I propose to strike a contrarian note once again. If the business mood was unduly optimistic in 2007, I think it is unduly pessimistic today. This needs correction".
The private sector, he said, needs an environment in which enterprise can flourish and create both jobs and stimulate growth to ensure that it remains inclusive.
"The environment today is not what it should be, and that is what the government must correct," Singh said, adding that more reforms are being considered.
He urged the industry to have faith in government's determination and avoid getting swamped by mood of negativism saying "we must prove the prophets of gloom as wrong".