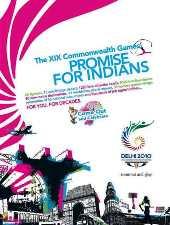 Catering to the needs of the residents of the Commonwealth Games Village, the Central Bank of India branch here has become a big hit among the athletes, international delegates and those who reside at the village.


The bank, which functions from 9 in the morning to 9 in the night, has received tremendous response from the residents.


"Mostly we have customers for foreign exchange. Everyday we are providing approximate forex of Rs 800,000-10 lakh (Rs 1 million)," said S K Sood, manager, Commonwealth Games Village branch in New Delhi.


Despite working for long hours, bank staff are upbeat. "It is one in a life time opportunity. We are part of such a prestigious event. We get energy to work by serving people and seeing them happily," said R S Mehra, another bank official said.


What catches one's attention is the visitors' book.


"Living the dream in India," is what Dawn Squires from Swaziland wrote.


Another message by Biso Abraham, read "Excellent service in spite of being Sunday (Oct 3)."


Many
other words of praise were penned down by the sportspersons and dignitaries. Some of the foreign atheletes also wrote in Hindi.
"Dhanyavad, nice meeting you," wrote Sheetal, a Mauritian.


The bank had forged an alliance with the Commonwealth Games organisers to provide complete banking services to the players, officials and tourists from different countries. The Commonwealth Games Village in New Delhi boasts of facilities, including a post office, restaurants, spa, coffee shop, eatery joints.


The latest season of the Games is witnessing participation of over 7,000 athletes from 71 nations.