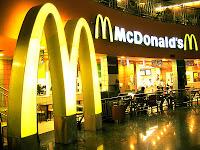 Vikram Bakshi, the estranged partner of fast-food chain McDonald's, will seek reinstatement as managing director of the 50:50 joint venture Connaught Plaza Restaurants, with a plea to the Company Law Board seeking the 'deadlock' in the August 6 board meeting be resolved.

Connaught Plaza Restaurants controls the franchise to run McDonald's stores in north and east India.

At the August 6 meeting, two members of the board (Vikram and wife Madhurima) had supported his continuation as managing director, while two (McDonald's officials) had opposed it.

Bakshi's term as managing director had lapsed on July 17.

Earlier, the process of nominating the managing director was virtually automatic, with Bakshi being re-elected in the normal course.

Bakshi would appeal in the Company Law Board against a notice by McDonald's publicly stating he wasn't the managing director, as, according to him, the issue hadn't been resolved yet.

He would also challenge the "differential treatment" by McDonald's towards its two partners in the country and putting undue restrictions on Bakshi.

McDonald's also has a tie-up with B L Jatia Group's Hardcastle Restaurants (a subsidiary of Westlife Development), which has the franchise to run stores in west and south India.

In 2011, the Jatias bought McDonald's stake in the company and secured a development licence to run the chain.

According to sources, the estrangement started in 2008 when McDonald's offered Bakshi $10
million for his stake in the joint venture, based on valuations by agencies.
However, after an independent valuation by Grant Thornton, Bakshi didn't agree to the price.
The second bone of contention was the cap on the debt Bakshi could take. Between 2008 and 2012, he couldn't increase his debt beyond Rs 134 crore (rs 1.34 billion); only after prolonged was he allowed to increase this limit to Rs 161 crore (Rs 1.61 billion).
When the debt limit was raised, Bakshi's business grew, but his profits fell.
Third, while the royalty Bakshi continued to pay was five per cent, McDonald's reduced the royalty payment of Hardcastle Restaurants to two per cent.
When contacted, Bakshi declined to comment on the issue.
The joint venture between Bakshi and McDonald's runs about 150 outlets under non-exclusive licences from McDonald's India.
In a circular to its suppliers in India, the head of McDonald's global supply chain said the day-to-day operations would be run by the board "till a new managing director is appointed".
It added "it is business as usual" for the company and it had plans it was committed to follow.
Bakshi clarified he wouldn't sell his stake to the US partner or to the second Indian franchisee, Hardcastle Restaurants.
"We are not negotiating with anyone to sell our 50 per cent equity in the joint venture," he said.
A McDonald's Corporation spokesperson said the matter was internal.