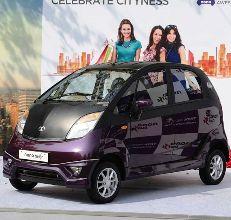 A rival to compete with Mercedes C Class and BMW 3 Series will be launched by Tata Motors-owned Jaguar towards the end of this year, marking the luxury brand's entry into the high-volume premium car segment.

Sporting a compact four-cylinder, two-litre engine, this new sedan will be the smallest five-seater luxury saloon under the Jaguar brand.

In addition to competing with the Mercedes-Benz C Class and BMW 3 series, the new Jaguar car will also compete with the Audi A4.

Though company officials remain tight-lipped, the new car is likely to be priced at between Rs 40 lakh (Rs 4 million) and Rs 45 lakh (Rs 4.5 million).

Jaguar Land Rover is targeting a commercial launch of the 'baby Jaguar' closer to the end of the year.

A global launch will follow the launch in the Indian market.

In a conference call with financial analysts, Tata Motors Chief Financial Officer C Ramakrishnan said: "We are launching under the Jaguar brand a vehicle that's equivalent to the Mercedes C class and BMW 3 series.
"It will be out towards the end of this calendar year."
Photograph, courtesy: Tata Motors