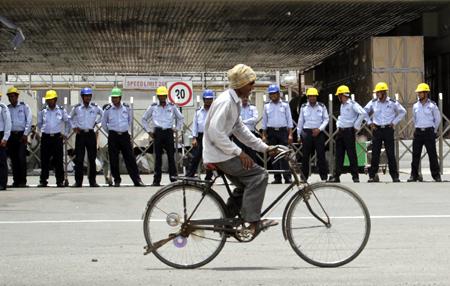 Maruti Suzuki India Ltd (MSIL) is planning to offer low-cost houses to its 5,000 employees, as it tries to walk the extra mile to improve relations with workers.
The company, which in July was hit by violence that killed a senior official at its Manesar plant, has already agreed to raise salaries of its workers by an average of Rs 18,000 per month, spread over three years.
"We will set up an employees cooperation committee to look after various issues, mainly accommodation-related, affecting the workers and their relationships with the management. The committee is likely to be established by December this year," Chief Operating Officer (administration) S Y Siddiqui said.
The company is planning to offer low-cost houses to about 5,000 employees and the committee will be responsible for this development, he added.
"However, till the committee is formed, the company will take the initiative in acquiring land and starting preliminary work. Once the committee is in place, we will hand over the responsibility to them," Siddiqui said.
He, however, declined to share how much land the company was looking to acquire and what could be the investment size.
"By the middle of October, we will finalise the location, how much land is to be acquired, the investment size and other details," he added.
Siddiqui said the flats will be offered on self financing basis to workers, who will receive easy loans from financial institutions with the help of MSIL.
"At the end, the workers will own the flats... These will be offered to both Gurgaon and Manesar plant staff," he added.