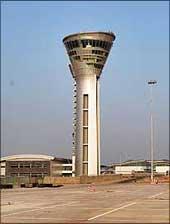 India's airports are getting swankier by the day, but time stands still at the Air Traffic Control (ATC) offices across the country.
The ATC officers, who guide the landing and takeoff of aircraft, are badly understaffed and fatigued. And, so, the increasing incidents of near-collisions in the air should not come as a surprise.
There are 2,000 ATC officers in the country and there is a requirement for 800 more. Unlike their counterparts in the US and Europe, the ATC officers have to work seven days a week in a six-hour shift a day. They also have to do overtime for around 60 hours. "We work all seven days a week and do not get an off," said an ATC official, who did not want to be identified.
"We also have to do overtime for around 60 hours a month and the payment for it is just 20 per cent of our normal wage," added the official.
ATC officers in the United States and Europe work for fixed 200 hours a month and they also get off days. An ATC officer's job requires 100 per cent concentration and a break after every one-and-a-half hours. "We do not get time to take a break during our shifts, which leads to fatigue and near misses in the air," said another ATC source.
The Airports Authority of India (AAI) accepts the deficiency and says it is trying to address it. "We are calling ATC officers from our civil enclaves and recruiting people to bridge the gap," said a senior AAI official.
"Working all seven days is an acceptable agreement with them," the AAI official added.
Even though the software used by ATC is one of the best, officials complain the communication system, through which they stay in touch with pilots, needs to be replaced.
"The communication system should have a range of 400 km, but our system works well only within 300 km. Beyond that, the voice starts cracking. Any misinterpretation in communication could be fatal," the ATC official added.
Things are worse at the New Delhi airport. The capital's airspace is divided into three sectors -- the eastern side, northwestern side (flights coming from Jammu side) and southwestern side (flights coming from Gujarat side).
This means three sets of teams should work together to guide flights coming from the three sides. "As there is a shortage of personnel, both the western side sectors have been merged into one and one team handles both the sectors. There is extreme pressure on us. This risks the lives of fliers," said one of the ATC sources.
State-owned AAI is responsible for providing ATC services across all the airports in the country. To bridge the deficit, AAI had decided to hire 400 retired ATC officers from the air force. But that has not yet happened.
To become an ATC officer, one has to be an engineer in electronics and communications and has to have a good voice quality. One has to clear a written test and an interview and qualify the voice test.
Qualified candidates go for a six-month training and work on probation for two years.
However their starting salary during probation is Rs 3.6 lakh (Rs 360,000) a year, which is much less than the Rs 3 lakh (Rs 300,000) per month an ATC officer gets internationally. After three years in service in India, they make about Rs 7.2 lakh (Rs 720,000) annually, while their international peers make Rs 5 lakh (Rs 500,000) a month.