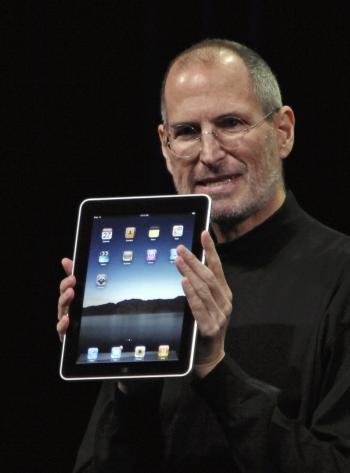 Apple has unveiled the iPad, its new tablet computer, which is the size of a standard children's slate and which does not have a keyboard or mouse but relies on a touchscreen.
"Using this thing is remarkable - it's so much more intimate than a laptop, and it's so much more capable than a smartphone," Steve Jobs, Apple chairman said, releasing the product.
The iPad appears to be taking on PC-and Linux-based netbooks while combing the best of all the iPhone and earlier Apple products has provided. 
The aluminium-clad rectangular unit is 0.5 inches thick, with a 9.7-inch screen, weighing 1.5 pounds, and using the 1GHz Apple A4 chip and 16 to 64 GB in flash storage. The price start at $499 for the 16 GB version without 3G, and the most expensive 64 GB model, with 3G, will cost $829.
It is WiFi-capable (802.11), have 3G standards, and can be used to connect to other tablets for gaming. It can also be accessed through Bluetooth technology.
It also has a dock to attach an external keyboard, making it essentially a monitor that you can also access directly.
The battery lasts 10 hours in the iBook mode, but, according to Jason Calacanis, a web personality who reportedly reviewed the product, said gaming draws a lot more juice.
It does not have a camera, though.
Among other things, senior Apple executive Phil Schiller showed off  iWorks, an office suite specialized for the iPad.
One of the strongest features is a book app, iBook, a smoother answer to the Kindle that provides more options than even smartphone apps like textonphone do. There's the iPhoto, which allows for simple browsing of pictures.
The 3G service, from AT&T, costs 14.99 for up to 250 MB, and 29.99 for unlimited data. There are no contracts, given that the charges are prepaid. International deals are to be in place by June.
But smartphone users like Tiwari, who get most of the features in their iPhones and iTouches, can do without the added frills in an unwieldy package.
Tiwari, an IT specialist from New York, says the product does not make sense "if you have an iPhone, iTouch, and are not an avid reader." Besides, he feels, there is not even a camera to redeem it.
"It is good for the publication industry that has been suffering - like magazines, and daily and weekly newspapers," he felt, admitting that it could be more popular than netbooks "because those who have netbooks can have this – with 3G and all."
Image: Apple CEO Steve Jobs holds the new iPad during the launch of its new tablet computing device in San Francisco on Wednesday.
Photograph: Reuters