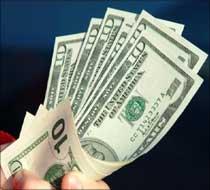 The protocol signed by India and Switzerland to amend their existing Double Taxation Avoidance Agreement so as to facilitate information sharing on black money stashed away in Swiss banks may come into force by the end of this year, Finance Minister Pranab Mukherjee has said.

"We have signed a protocol amending the existing Double Taxation Avoidance Agreement with Switzerland last August.

As per their law and Constitution, their international agreements are to be ratified by both houses of Parliament and local authorities.

"The ratification by the two houses are over. Ratification by local authorities may be over by the end of this year," Mukherjee told newsmen at India House here on Monday evening.

Answering a question on Bharatiya Janata Party president Nitin Gadkari's demand for the resignation of Prime Minister Manmohan Singh and Home Minister P Chidambaram following a certain statement by former Telecom Minister A Raja -- who is under arrest and faces charges in connection to alleged irregularities in the award of 2G spectrum -- Mukherjee said: "I don't know what evidence Raja has given, apart from making a statement.

"The matter is before the court and it is for the court to decide."

Raja told a Delhi court hearing the 2G case on Monday that Chidambaram, then Finance Minister, had told the Prime Minister that dilution of shares by 2G licencees to attract foreign direct investment did not not
amount to sale of licence.
Gadkari had subsequently demanded the resignation of Singh and Chidambaram, stating that what Raja said in court showed that the top leadership of the government was aware of all 2G transactions Replying to another question on whether Raja had consulted him on the 2G spectrum issue, Mukherjee, who was heading the group of ministers, said: "I was involved in resolving the issue -- spectrum to be vacated by Ministry of Defence."
"There were divergent views. I was heading the External Affairs Ministry and I resolved the issue by making the Defence Ministry to vacate certain quantum of spectrum," he said.
Asked whether the government would be investigating the Rupert Murdoch issue in India, Mukherjee said: "If we receive any complaints in India we will look into them. What happens in other countries is left to them to decide."
The High Commissioner of India to the United Kingdom, Nalin Surie, and Deputy High Commissioner Rajesh Prasad were also present on the occasion.
Earlier, addressing a joint press conference with Britain's Chancellor of Exchequer George Osborne, Mukherjee said India plans to double its exports in the next years to reach $500 billion.
"The government has announced a manufacturing policy to increase the share of manufacturing from the present 16 per cent to a level of 25 per cent of the GDP over the next decade," he said.
He added there are significant opportunities for British investment in India, particularly in the infrastructure space.