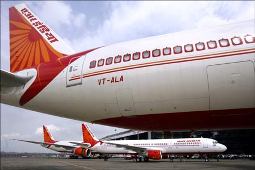 Air India pilots seem to be heading for yet another showdown with the management by flying 'under protest' over the recent changes in their flight duty hours which they slammed as 'arbitrary and illegal'.

"AI management has issued a new route pattern effective September 16, which the ICPA feels is in violation of their bilateral agreements," the Indian Commercial Pilots' Association, a union of erstwhile Indian Airlines pilot with over 600 members, said in a statement.

A letter notifying that the flights were being operated by ICPA members 'under protest and without prejudice to their rights' has been issued to GM operations (In-charge Airbus Fleet).

Observing that pilots were not aware of the norms and regulations of the new scheme, the statement said, "In these circumstances, the ICPA states that any inadvertent violation on the part of our pilots of the applicable norms and regulations is entirely at the risk and expense of the management."

The pilots' body also shot off a legal notice to Air India CMD Rohit Nandan asking him not
to "unilaterally alter the Flight Duty Time Limitation " without consulting the unions, as the prevailing flying norms were governed by agreements between pilots and the management, with aviation regulator Directorate General of Civil Aviation also giving its nod to it.
The notice was sent after Civil Aviation Minister Ajit Singh asked the airline to strictly implement the FDTL and flying time limitations as per the DGCA guidelines.
A recent study by the Civil Aviation Ministery found that Air India pilots were flying just 6.5 hours a day against the laid down norm of nine hours.
"You are aware that flight safety has been a primary concern of the national carrier and that's why the FDTL norms for the ICPA have remained firmly within the maximum limits placed by the DGCA. Dharmadhikari committee has nowhere suggested that the FDTL has to be per the maximum limits of CAR," the ICPA notice said.
Maintaining that "great injustice is being meted out" to the pilots, it said the FDTL norms were settled through agreements with the knowledge of both Air India and the government and, therefore, "no unilateral alteration is permissible".