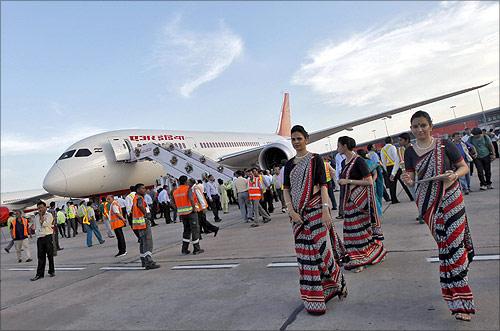 Air India got its third Boeing 787 Dreamliner on Tuesday from the new North Charleston facility of the US-based manufacturer.
The aircraft, piloted by Captain Amitabh Singh and Captain Rohit Bhasin, landed at IGI airport here at 5.15 pm and was received by senior airline officials, a senior Air India official said.
Air India is likely to deploy its newly-acquired fleet of Boeing 787 Dreamliner aircraft for long-haul international operations from next week.

The first destination would be Frankfurt and the service is likely to begin from October 15.
In September, Air India took delivery of its first of the 27 Dreamliners on order. The aircraft is equipped with 18 business class seats and 238 in the economy class.
Air India has currently deployed the Dreamliners on domestic sector to familiarise the pilots with aircraft landings and takeoff procedures.
The first commercial service of Dreamliner started from September 19 between New Delhi and Chennai, followed by New Delhi-Bangalore sector.
The airline would take delivery of the fourth 787 on October 20 and another by the end of this year, followed by seven more in 2013, five in 2014, six in 2015 and three in 2016.
Dreamliner is the first commercial jet made primarily of advanced composite materials. It offers exceptional passenger comfort features including cleaner air, higher humidity, bigger windows that dim electronically and more overhead storage space.
The aircraft's fuel efficiency is 20 per cent better than other airplanes in its class, which also results in 20 per cent lower carbon emissions.