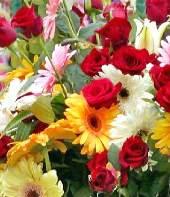 The air cargo business is a loss-making proposition for several airlines, with a fall in demand and yields, but business has started booming again ahead of Valentine's Day with an increase in shipment of cut flowers, mainly to the US and Europe.

Air India and Jet Airways flew tonnes of fresh flowers to Europe in the last 10-12 days, though their uplift is much less compared to rival carriers.

This is because the Indian carriers lack the network and belly space offered by European and Gulf airlines and flower exports from India are less.

Kenya, Ethiopia and Ecuador are top exporters of flowers.

"In the last one week, Jet's cargo has uplifted 30 tonnes of cut flowers onboard its Mumbai-London flights and 9.5 tonnes of flowers onboard its Mumbai-Brussels flights.

"About 80 per cent of these consignments contained roses. On each flight, one pallet space was reserved for cut flowers," a Jet official said.

An Air India spokesperson did not share specific data, but according to a source, the state-run airline carried 25 tonnes of flowers on its Mumbai-London flights in the last few days.

On Tuesday, Lufthansa Cargo announced it had flown 1,000 tonnes of roses
from Kenya, Ecuador and Colombia, deploying additional freighters to meet the demand.
The airline said it had developed a special product for transport of perishable goods with trained executives taking care of consignment.
"The airline's sophisticated logistics with cooling systems in the cargo hold ensure that the roses arrive fresh and crispy at their destination,'' Lufthansa Cargo said in a statement.
According to a report in Air Cargo News, an air cargo publication: "Saudia Cargo is operating a series of four extra freighter flights from Nairobi to Amsterdam in order to meet extra demand for flower shipments.
The extra flights will be operated with a mix of MD11 and B747F planes and will be in addition to the existing five weekly scheduled freighter flights on this sector, providing a total capacity of 1,000 tonnes for flowers into the European market during this particular peak window."
Ram Karturi, chairman of Karturi Global, a leading exporter of flowers with cultivations in India and Africa, said: "We exported 1,200 tonnes of roses for Valentine's Day, but only 40-45 tonnes came from India.
"The domestic market for flowers is vibrant and exports from India are falling.
"In fact, due to the high local demand, India imports flowers like orchids and tulips."