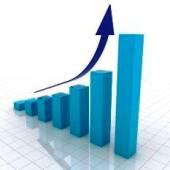 With the overall consumer sentiment improving, advertising is getting a fillip.
Last year, the ad industry had grown 6 per cent. This time around, it is hoping for at least a 10 per cent growth rate.
Television, say analysts, has been a major beneficiary with ad rates rising 10-15 per cent over the last one month. Print, radio and internet media have not seen a price hike as yet, but media buyers are not ruling out the possibility on the back of a sound economy.
The increase in television advertising is across categories, like fast moving consumer goods, telecom and retail. In the quarter ending December 31, 2009, almost all FMCG companies increased their advertising and sales promotion expenditure by over 10-15 per cent.
The scenario was no different in telecom, retail and consumer durables as players sought greater visibility in the third quarter.
"This need for visibility is likely to be there in the coming quarters, too, implying that spend levels will continue to be high for some time," say media experts. As a dominant advertising medium, television, say experts, is a clear beneficiary of this increase in spends.
Raj Nayak, chief executive officer, NDTV Media, says: "The mood is decidedly upbeat. I find advertisers willing to spend more now than they did six months ago."

Concurs Satyajit Sen, CEO, ZenithOptimedia India: "2010 looks better than 2009. We are expecting an overall 10 per cent growth."
Advertising inventory, according to media experts, is almost choc-a-bloc on key channels in genres such as Hindi general entertainment, movies and regional entertainment.
"Hindi general entertainment channel Colors and regional channel Sun -- both leaders in their space -- hiked their ad rates in the recent past by almost 10 per cent," says Ruchira Raina, managing director, Dentsu Communications and Dentsu Media India.
"Inflation is linked to the performance of shows. But, yes, these channels have increased their rates of late," she adds.
Even high-viewership properties, such as the Indian Premier League, are seeing favourable response from advertisers, despite ad rates being hiked by a steep 32 per cent.
Ad rates for top performing programmes have been raised across channels, and there's a steep rise in ad rates of cricket channels, according to Shripad Kulkarni, COO, Allied Media (Percept's media buying agency). MAX, the channel which has the rights for IPL, is said to be eyeing a revenue target of Rs 650 crore (Rs 6.5 billion) -- Rs 200 crore (Rs 2 billion) more than the expectations it had last season.
Inventory on IPL is also running full, say media experts, only showing the premium that advertisers are willing to pay to stay visible today.
"It's a factor of demand and supply. The demand is there, so supply is playing catch-up at the moment. The result of all this is that rates are going up," says Harsha Joshi, chief operating officer, buying and content, Madison Media.
Cinema and outdoor media ad rates have gone up 5-10 per cent and 15 per cent, respectively.
Sen, meanwhile, says if the recession slowed down the growth rate in the ad industry, it also created opportunities.
"Clients reacted to recession in multiple ways, including cost management. It helped us look back and take a sharper focus of things, prioritised the few things we wanted to do for our clients."