Adidas chief executive officer Herbert Hainer is expected to be in India soon, as the local unit of the German sportswear maker, Reebok India, finds itself embroiled in a controversy, following the exit of its senior management, including Adidas India managing director Subhinder Singh Prem, amid allegations of commercial irregularities.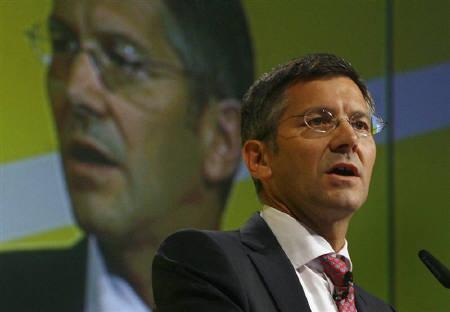 Prem was given a termination notice by e-mail on April 29, a month after he sent in his resignation.

Earlier this week, Adidas admitted to commercial irregularities at Reebok India, saying it could result in a pre-tax impact of up to euro 125 million (or Rs 871 crore), while further restructuring there could cost up to euro 70 million (Rs 488 crore) in 2012. It said it would cut the number of its nearly 1,000 Reebok stores in India by about a third.

Hainer is said to have sought appointment with senior ministers, following the survey of Reebok India's accounts by tax authorities.

An Adidas spokesperson said they had no information to share on the matter.

Prem has challenged the legality of the appointment of the new India head, Claus Dieter Heckerott, and his termination in a legal notice to Hainer and Adidas AG.

The notice, a copy of which is with Business Standard, describes Heckerott's appointment as "illegal" and of no effect, since procedures under Section 284 of the Companies Act were not followed.

In simple terms, Prem alleges that under Section 284 of the Companies Act, a director has to be given a show-cause notice for his removal and should be given the right to defend himself in the board before a final decision is taken. Prem said this procedure was not followed in his case.

Prem has demanded immediate clearance of his contractual dues and adequate compensation for the "illegal termination" and consequential loss suffered by him to the tune of Rs 12.7 crore (Rs 127 million).

He has demanded Rs 7.7 crore (Rs 77 million) as his entitlement, including bonuses, gratuity, provident fund and severance bonus. He has also demanded another Rs 5 crore (Rs 50 million) as compensation for the harm suffered by him personally and professionally due to the illegal purported termination and its fallout. This is over and above a defamation notice that he has also filed against Adidas for Rs 15 crore (Rs 150 million).     
"The situation in India, although unfortunate, will allow us to now accelerate plans to improve a specific underperformance part of our business," Hainer said in a statement on April 30.

Image: CEO of German sporting goods maker Adidas Herbert Hainer