Prime Minister's Economic Advisory Council (PMEAC) Chairman C Rangarajan on Tuesday said there was a need to stimulate investments to get back to high growth path.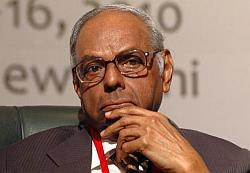 Rangarajan's observation comes at a time when the industrial output contracted to 0.6 per cent in December due to poor performance of manufacturing and mining sectors and decline in production of capital as well as consumer goods.

"Our investment rate has fallen but it is still growing at a rate of 30 to 32 per cent...We need to look at the fact that we have not been getting the full benefits of the investments that we have put in. If we activate these investments, we can get a higher growth," Rangarajan said.

"I believe that in the next fiscal we should be able to grow at 6 to 7 per cent and 8 per cent thereafter," he added.

The Central Statistical Organisation (CSO) in its advance estimates last week pegged economic growth in 2012-13 at 5 per cent, as against the government projections of 5.7- .9
per cent.
Rangarajan said the government was committed to tread on the path of fiscal consolidation and said the "fiscal deficit in current year will be close to the targeted 5.3 per cent."
Pointing out the reasons for high current account deficit (CAD), Rangarajan said: "The CAD has been high due to a variety of factors - excessive import of gold plus demand for our exports has been coming down. Whereas our economy continues to grow at a relatively higher rate as compared to Europe or other developed countries, so our imports continue to be a little strong."
Reserve Bank Governor Duvvuri Subbarao had on Monday cautioned that the country was headed for the highest ever CAD, which is the gap between forex gained and forex spent, this fiscal after it rose to 5.3 per cent of GDP in the second quarter.