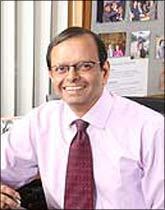 Zensar Technologies, the Rs 900 crore RPG Group's software services company, expects Rs 200 crore from its domestic business this fiscal, up from Rs 40 crore last year. In an interview with
Pradipta Mukherjee
, Vice-Chairman and CEO
Ganesh Natarajan
says the company is on an expansion and hiring mode, defying the freeze in the industry. Excerpts:
 Zensar was incurring losses for a while. What is the situation now?
 Over the last three years, we had invested close to Rs 7 crore in our business process outsourcing and technology and services businesses. Our BPO business was incurring losses of Rs 10 crore, because it takes time to break even. Right now, all our businesses have turned profitable and we have seen a 35 per cent year-on-year growth.
What are your growth projections?
We expect a 10-12 per cent revenue increase and 20 per cent increase in profits this fiscal. In 2008-09, we posted revenue of Rs 908 crore and a profit of Rs 86 crore.
Currently 68 per cent of our revenues come from offshoring deals, BPO business makes for 5 per cent, while 28 per cent of our revenues come from enterprise services.
We are also aiming at 10 per cent of our revenues from India. Currently, 98 per cent of our turnover is from exports. Last year, our domestic business was around Rs 40 crore, but this year we are targeting Rs 200 crore. This is possible because while our export revenue continues to be hit by the global recession, domestic business has been picking up.
Is Zensar expanding in terms of manpower and infrastructure?
We are looking at recruiting a total of 350 people this fiscal, of which 200 would be campus recruits. Last fiscal, we recruited around 550 people. We are hiring less this year compared to the last one, because attrition in our organisation has come down from 18 per cent earlier to 1.8 per cent right now.
Our immediate infrastructure expansion includes setting up a 4-acre campus in Orissa this fiscal for an investment of Rs 20-25 crore, which would become our second biggest campus after Pune. We would be employing close to 2,500 people in Orissa, while our Pune campus employs 3,000 people.
How would you achieve the revenue growth you expect? 
Our focus areas this year would be hosted solutions, business intelligence, procurement and supply chain solutions and insurance. Another focus area this year would be on the education and healthcare space, since these sectors are recession-proof. For instance, we have bagged a Rs 5-6 crore education project in the first phase, in Jammu & Kashmir. The project involves digitally connecting three campuses in the state, which would also help satellite education, among other things.
We are also looking at spending Rs 100 crore into acquisitions that would help us double our revenues. We are looking at companies in the knowledge process outsourcing and remote infrastructure space, with a turnover of around Rs 100 crore.
Also, we have inked the single largest deal of over $17 million with a significant insurance company in the US. At present, Zensar has an order book of over Rs 200 crore.
Are you hiring more locally? 
Currently, we have 14 offices and 4,700 employees globally, of which 400 are non-Indians. Our aim is to have 10-12 per cent of our total employees to be locally employed, due to dependence on local language and requirements.
Are export markets improving? 
With an uncertain global market, we are looking for more business in emerging markets in India, China, South Africa, Latin America, Eastern Europe, Japan, Singapore and Australia. Around 40 per cent of our business should come from these countries in 5-10 years. At present, 59 per cent of the business comes from the US, 30 per cent from Europe and the rest from other parts of the world. From January-March 2009, there was not much business but it has begun picking up now.
Image: Ganesh Natarajan