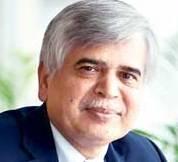 An economic slowdown and confusion about taxation has hit the risk-taking ability of both the Indian corporate sector and foreign investors.

Richard Rekhy, chief executive officer of KPMG India, the consultancy firm, tells Business Standard the problem is not taxation itself but the flip-flops on this.

Edited excerpts:

Corporate India seems to be suffering due to taxation issues.

I don't think people are against taxation.

People will respect the tax regime of a country and create business models around that.

But uncertainty is the concern.

For instance, the tax notices that companies are getting about transfer pricing.

The challenge is not the tax, it is the flip-flops.

In Davos, despite having the second-largest delegation, there was little enthusiasm about India -- perhaps the lowest in recent times.

They coined a new term -- Mint (Mexico, Indonesia, Nigeria and Turkey).

And discussed whether Brics (Brazil, Russia, India, China, South Africa) was an overhyped term, with only China performing to potential.
Everyone is happy with the changes in the recent times but are waiting for implementation.

Given this background, what should be the Budget's thrust?

The Budget should come with some clarity on provisions.

There is talk about the direct taxes code, as it will bring about some certainty and some amount of surcharge, perhaps 10 per cent, on higher income groups is in the offing. At present, only the salaried get hit.

A salaried person is taxed at source, then his investments are taxed and the same people come under scrutiny but the rural rich are not taxed.

There is a political compulsion on not taxing the rural rich.

Someone needs to tell them that the urban poor are being taxed whereas the rural rich are getting away.

This is grossly unfair, that you have a section of people who will come and shop at the most high-end boutique -- one guy paid Rs 10 lakh (Rs 1 million) for a number plate -- but he will not pay tax.

Also, when the rural rich sell land, there is no capital gains tax.

China took a call on taxing agricultural income. So, somebody has to bite the bullet.

Our growth rate has been the slowest in a decade.

There are two parts to the India story: Consumption and investment. Consumption is doing well but investments are not happening.

On the one hand, we have a new manufacturing policy and the government wants 25 per cent of gross domestic product to come from the manufacturing sector by 2025.

On the other hand, all Indian entrepreneurs are setting up plants abroad.

Manufacturing and retail create the highest number of jobs because they create an entire ecosystem.

We have allowed foreign direct investment in retail but there are so many clauses that people are not showing interest.

Similarly, there is manufacturing.

Today, if you are importing buckets, it is not a good sign.

Look at policies to encourage manufacturing, in terms of providing land, in terms of providing incentives.

How will the revival take place?

The India story is still there.

You can't take away 1.3 billion people, you can't take away the fact that 50 to 60 per cent of the population are below 25 years of age, you can't take away that these are going to be big customers for goods and services.

If the sentiment is buoyant, the policy framework can be overcome. In 1991, we were on the brink of collapse.

Then, we opened the economy and freed entrepreneurship and reaped the benefits.

The telecom industry got 75 per cent penetration because of the pricing policy.

We should replicate it to other industries.

There are many foreign investors who want to come into infrastructure but the clarity needs to be there.

We should take the top 100-200 infrastructure projects and get it cleared by the new National Investment Board.

What is your advice to companies?

Technology is also going to drive a lot of the way we are going to do business.

Today, there are eight billion mobile devices in the world.

Somebody who can create an application that can reach eight billion people is going to be the success story.

Companies which do not have a bent on technology or do not have a thing to do with e-commerce will become irrelevant after some time.

Today, banks are asking how this digital revolution is going to affect the way I deal with our customers.

Media and entertainment companies are asking this question.

Even global leaders like the US are becoming protectionists. For instance, Barrack Obama recently suggested a basic minimum tax for outsourcing companies.

If this is the way the world is going to move, then it is the first sign that globalisation is dying.

My personal view is that regional trade will result. So, India will now start trading with Asean (Association of Southeast Asian Nations).

There are lots of talks around free-trade agreements getting built out there.

That will create huge impetus for growth. So, you will find new markets and alignments emerging.
Image: Richard Rekhy | Photograph, courtesy: Business Standard