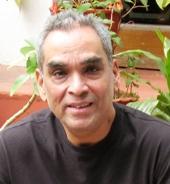 Ajit Balakrishnan wears many hats. He is the founder and CEO of Nasdaq-listed portal rediff.com and chairman of the Indian Institute of Management, Calcutta board of governors.
An alumnus of IIM-C, he is the first ex-student of any IIM to be appointed to this position. He was also on R C Bhargava Committee which gave recommendations to improve the IIMs.
On the sidelines of 'Samvit 2009 -- The Leaders' Conclave' at IIM-Lucknow recently, Balakrishan in a chat with Virendra Singh Rawat talked about issues that have dogged the IIMs. Edited excerpts:
Has the manner of protest against issues like discontentment over salaries and promotions affected the image of Brand IIM?

No, I do not think so. The matter has been resolved after the minister (HRD minister Kapil Sibal) provided a new scheme of compensation.
What is your view on IIMs setting up campuses abroad?

The government has in-principle agreed to IIMs opening their campuses abroad. This will allow individual IIMs to reset their priorities, if they have the capability and logistics to branch out. (The issue will be discussed in detail in a meeting between the union HRD ministry and IIM representatives in January 2010).
What about the faculty crunch?

There is a worldwide shortage of faculties. The issue is not unique to India or IIMs. Since liberalisation, there has been a sharp increase in the demand for faculties for the B-schools. However, the recruitment process for the faculties at IIMs is on.
How are IIMs addressing the issue of quality of faculty members?

The IIMs are making big efforts to attract candidates for the doctorate programmes, so that the quality issue can be tackled. More fellowship programmes also need to be started.
This year alone, about 75 PhD programmes will be started across all IIMs. (IIML director Prof Devi Singh informed that 20 PhD programmes were being undertaken in IIM-L).
Should fees be increased at IIMs to pay for increased salaries?

The debate over fees at IIMs continues. It has been found that the students taking admission in IIMs are mostly from families whose monthly income is around Rs 25,000.
However, when a student passes out, s/he gets a starting average salary of Rs 15 lakh (Rs 1.5 million) per annum. So, we have to maintain a balance in the fee structure keeping both things in mind.
Do you think that the IIM curriculum should be revised?

Of course. The meltdown has created a new environment and given a new experience. Now, we have to think that too much scientific and structured approach would not work in the future. The management education should be made more broad-base. The debate is going on.
Image: Ajit Balakrishnan, founder and CEO, rediff.com.