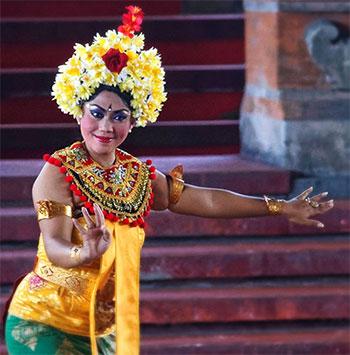 Those who seek wanderlust, would find paradise in Bali, says Hari Prasad Sridhar.
The island of Bali is not just another tourist destination, it's an experience in itself, discovers Hari Prasad Sridhar.
During his recent trip to the Indonesian island, the Nagercoil-based photographer captured the beauty of the place and its people.
Warning: These pictures will leave you spellbound.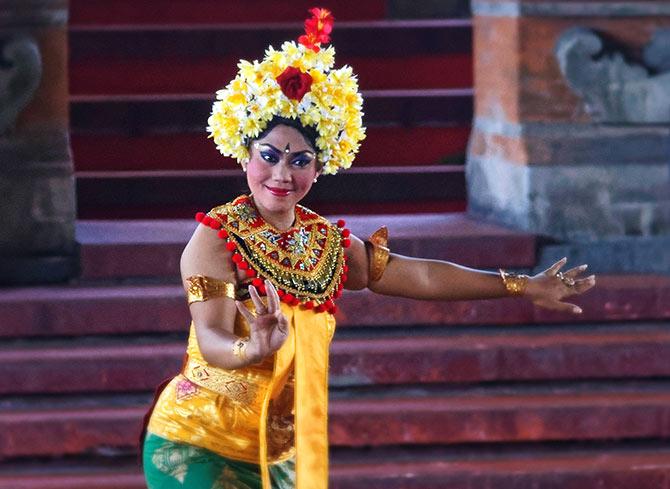 IMAGE: Bali has a vivid history of ancient arts and culture. In fact, it even has a Pandawa beach, inspired from mythology. You will find plenty of statues of Devi Kunti, the mother of the Pandavas in the epic Mahabharat. In the photograph above, an artist performs a traditional dance in which she plays the role of a servant of Devi Kunti. All photographs: Kind courtesy Hari Prasad Sridhar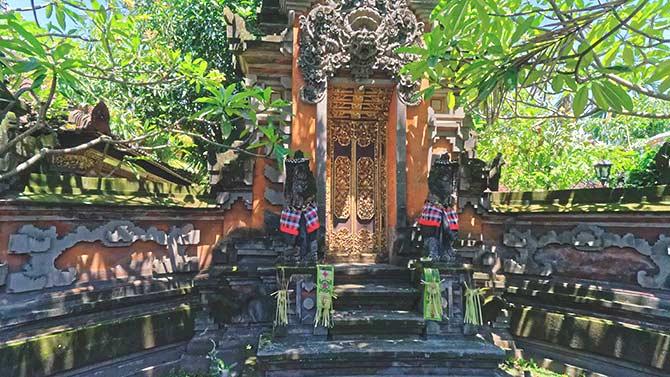 IMAGE: Balinese people are known for their exquisite woodwork architecture. Here's a typical house door which displays their trait.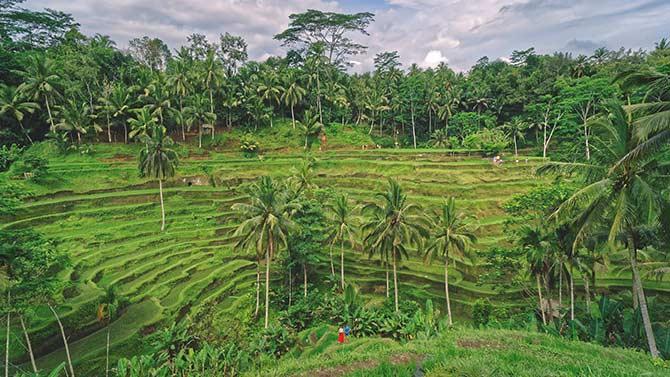 IMAGE: When you are in Bali, you must visit Tegallalang Rice Terraces, also a UNESCO world heritage site. Here you can experience subak, a Balinese traditional irrigation system featuring terraced paddy fields. The view, as you can see is beyond description.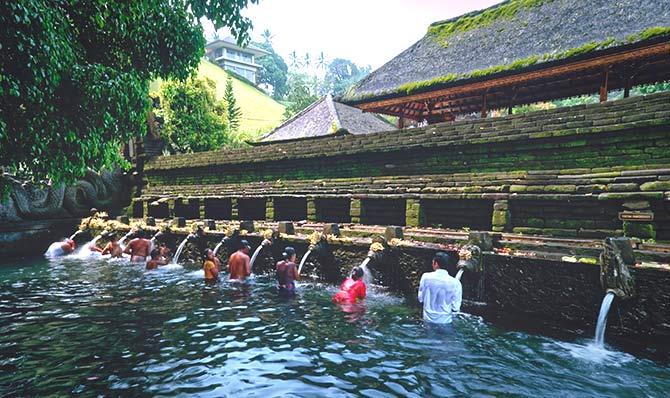 IMAGE: Bali's geography is such that it is prone to volcanic activity, so the land has a lot of water springs which the Balinese consider holy. The Tirta Empul (meaning 'holy water spring') temple is one of the places where people take dips to purify themselves. Interestingly, every spring water outlet is named after Indian rivers.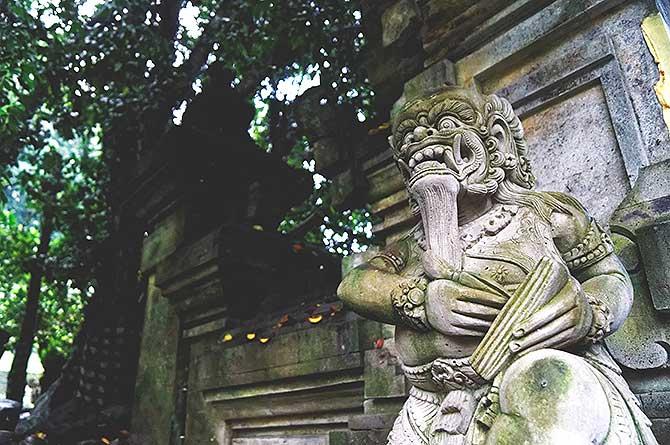 IMAGE: The temples are aesthetically decorated with murals and statues just like you would see in any of the Indian temples. The statue in the photograph above is called a 'Bedogal'. Formerly they were placed in front of temples but today almost all homes have them as door guardians, an essential element of Balinese exteriors.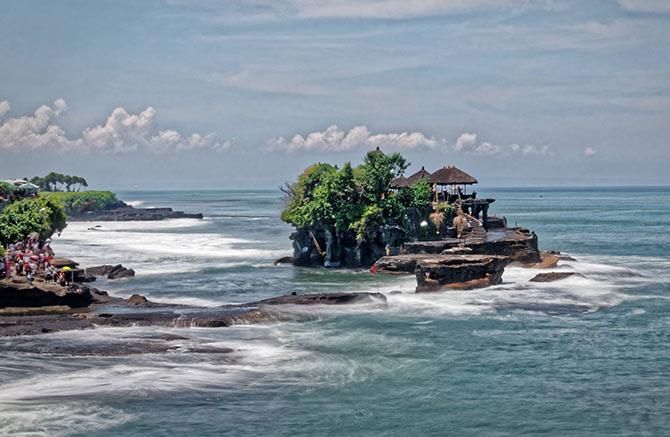 IMAGE: Tanah Lot, a site of beautiful rock formation is a boon for photographers. The entire place is shaped over the years by the ever eroding ocean tide. A place of Balinese mythology, Tanah Lot is influenced by Hindu culture.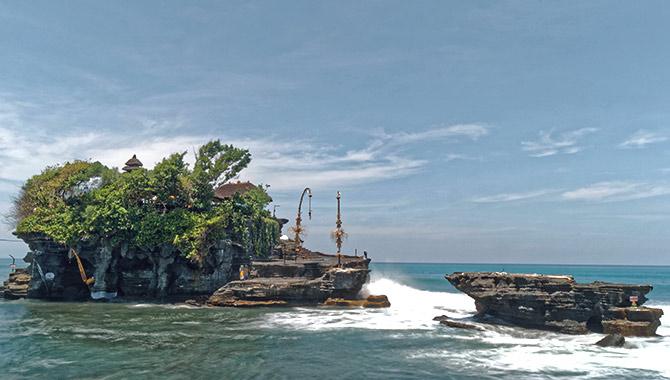 IMAGE: Here's another view of Tanah Lot.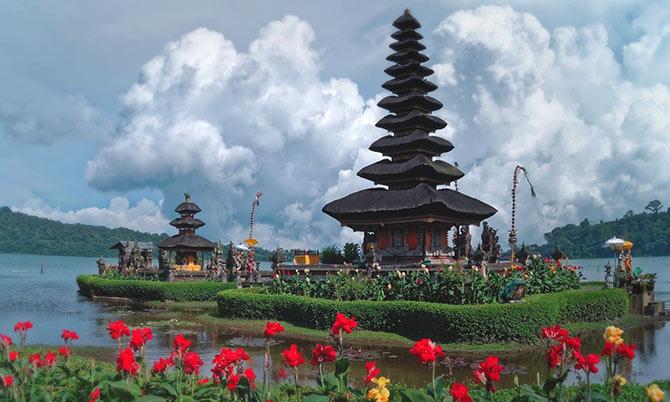 IMAGE: The Ulun Danu Bratan Temple is sight to behold. The Shiva temple is located in Lake Bratan (also known as Beratan). The main Goddess is revered as a source of fertility and prosperity among the locals.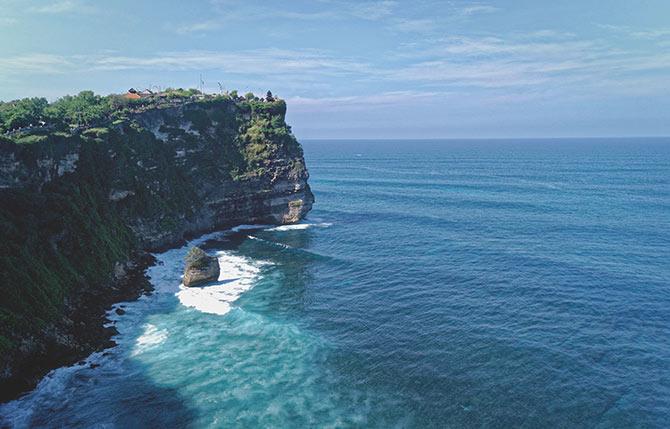 IMAGE: The Uluwatu temple is perched on a cliff 70 metres above the majestic Indian Ocean. Balinese Hindus believe that the three powers of Shiva, Bramha and Vishnu become one here. The view here is surreal.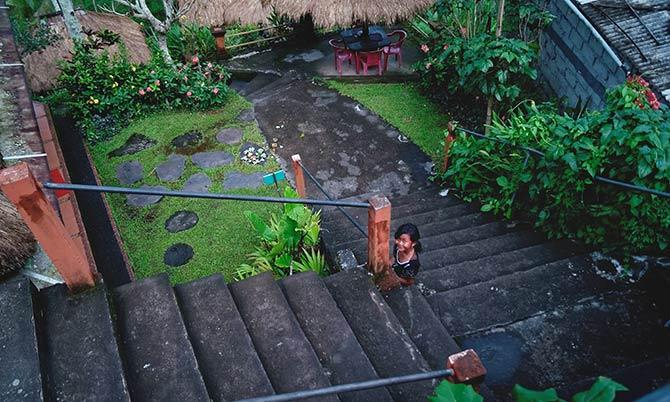 IMAGE: The Balinese are genuinely warm and generous. At the end of the trip, every traveller will say 'Teremah Sakih', the Balinese way of saying 'Thank you'. Those who seek wanderlust, would find paradise in Bali.