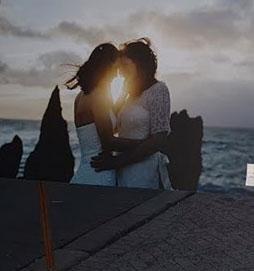 There's more to this country than just the Northern Lights, says Nidhi Taparia, who recently visited Iceland.
Till I got to Iceland, here's how I identified the country in my mind: their team's heroic show at Euro 2016, the Northern Lights and the volcanic ash that drove air traffic out of control in 2010.
Now that I'm here I wish to stay longer or, like Malina (my hostel's receptionist from Germany), work and be a tourist in this country.
Here are the six main reasons why Iceland fascinates me.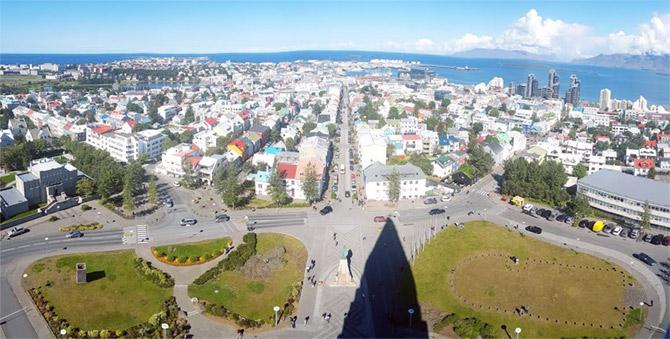 IMAGE: A bird's-eye view from Hallgrimskirkja.
1. It has a population of 3,30,000 people only
But they're likely to get five million tourists in 2016 alone. Chances of your bumping into locals are slim unless you go looking for them.
2. The number of people living in igloos is zero
It's a bit like expecting to see all Indians ride on elephants.
Seventy per cent of Iceland's population lives in and around their capital, Reykjavik. Interestingly, Reykjavik means Smokey Bay -- the name is inspired by the steam rising from a hot spring.
3. It's a good pit stop
The eruptions in 2010 at Eyjafjallajokull focused the spotlight on Iceland. Then, the Arab Spring that swept across North Africa created security issues which made Iceland a good pit stop since 2011.
This year, 6.8 million people are expected to traverse through the Keflavik International Airport.
4. Icelanders love coffee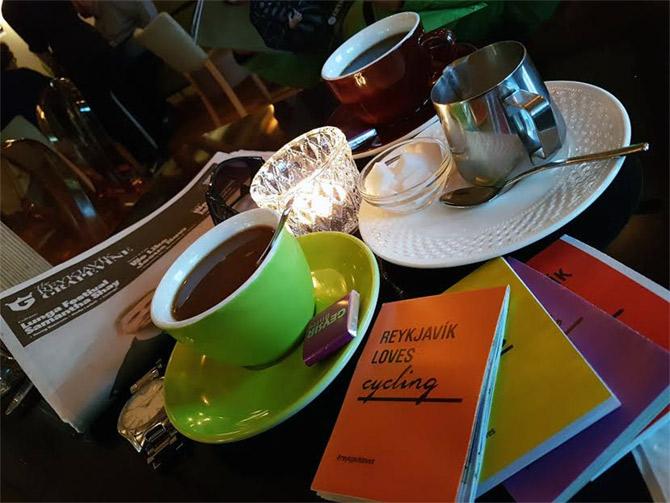 IMAGE: Coffee is very popular in Iceland.
Their fascination for the magic bean is evident through the sheer number of cafes in Reykjavik.
On a hot sunny day, sipping a cup of cappuccino or frappe while soaking up the sun is a favourite way of passing time.
5. In summer, the country gets almost 24 hours of daylight
So you can party while the sun is streaking across the sky.
6. If you have never eaten horse, whale or puffin, here is your chance

Iceland's restaurants serve it all.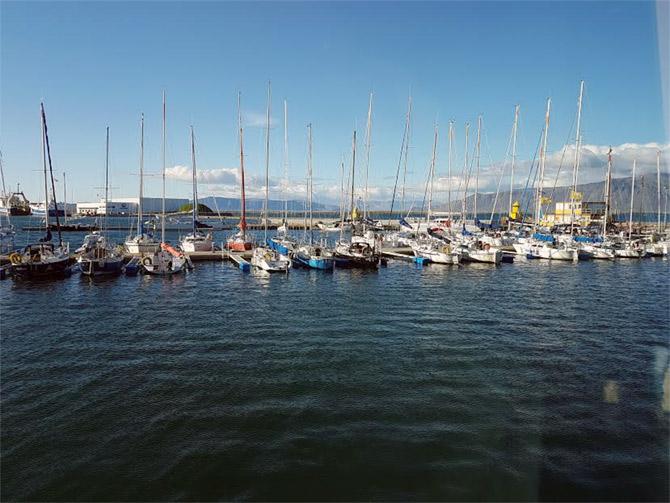 IMAGE: The harbour at Rekyavik.
Where to stay while you're there
Reykjavik does boast of hotels -- Hilton, Radisson Blu or Reykjavik Natura run by Iceland Air (Iceland's main airline) -- but it is dotted with hostels and guesthouses, not to miss the apartments available on rent on Airbnb.
While I am a luxury-lover, I experienced a hostel stay for the first time at Reykjavik Downtown Hostel. I realised that it is a great way to live -- whether you are travelling solo, as a couple or a family.
What made me pick a private room in the hostel was its location in Downtown, which makes it easy to get out and about -- no matter what the time is. The other reason I'd recommend a hostel is the constant movement. Given how quiet Reykjavik is -- and being a city girl –-- the buzz helped in feeling connected.
Besides, the staff comprises young people who like to travel and understand the city. They don't mind you asking stupid questions and are extremely good with maps.
Don't forget to check out the guest kitchen in a hostel. A completely stocked kitchen with a bottle of garam masala just in case you want to cook; this one is enough to give any chef serious inspiration.
Just when I was missing home, I also discovered an Indian pickle in the pantry left by a generous guest.
Try something 'touristy'

It is a bit touristy, but you must visit the Blue Lagoon, a geothermal wonder located in a sprawling 800-year-old lava field in the heart of the Reykjanes Peninsula, which is a UNESCO Geopark.
If the price of the Blue Lagoon is steep, I suggest you pick any of the thermal pools in and around Reykjavik.
Try the hot water in the swimming pool followed by a hot tub and a steam to enjoy this just like the locals do. Remember that the pools shut down by 10 pm unlike the Blue Lagoon, which is open till 12:30 pm. Ensure you book your trip to the Blue Lagoon 24 to 36 hours in advance.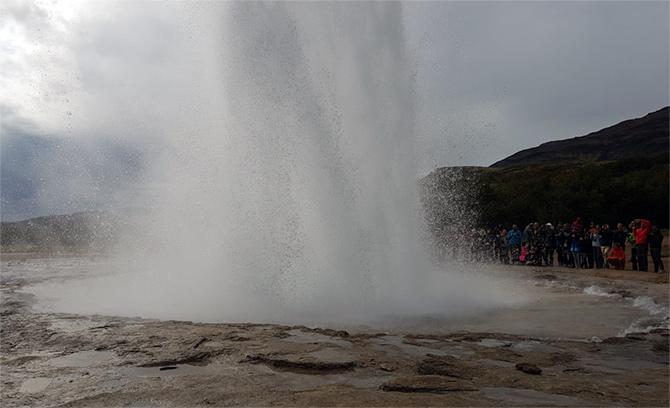 IMAGE: Tourists watch a geyser in the golden circle.
A good way to capture Iceland's beauty is to pick half-day tours.
The most popular is the Golden Circle which covers a 300 km loop across the city. It lets you experience the power of the Gullfoss Waterfall (golden waterfall), where a huge amount of water thunders down into the Grand Canyon.
On the same tour is a trip to the Geysir -- which is an erupting hot spring. Strokkur, LitlGeysir and others put up an impressive show every 8-10 minutes, as a spray of hot water that shoots up. The last stop is PingVellir, which is amazing and has a lot of history attached to it.
IMAGE: Take a look at the huge Gullfoss Waterfall.
Even the South Circle tour, which needs a day, is popular. The area has a high concentration of natural phenomena with long stretches of black sand beaches and deserts, striking mountains, glaciers and more. My favourite was the Seljalandsfoss Waterfall, which falls though the mouth of a cave.
Close by is the Iceland Erupts Exhibition, a memorial to the 2010 eruption.
While I didn't try glacier hiking, they say it's the best way to get up-close with Iceland's elements. Best done accompanied with a professional glacier guide, you can explore rugged ice crevasses, sink holes, jagged ridges, ice walls and amazing ice formations.
So much of Iceland's history and culture is showcased in museums. What's also worth checking is Solfar -- a beautiful Sun Voyager sculpture off the capital's shoreline and Hallgrimskirkja-- a church with a view and over a 100+ musical organs.
Dip into the culture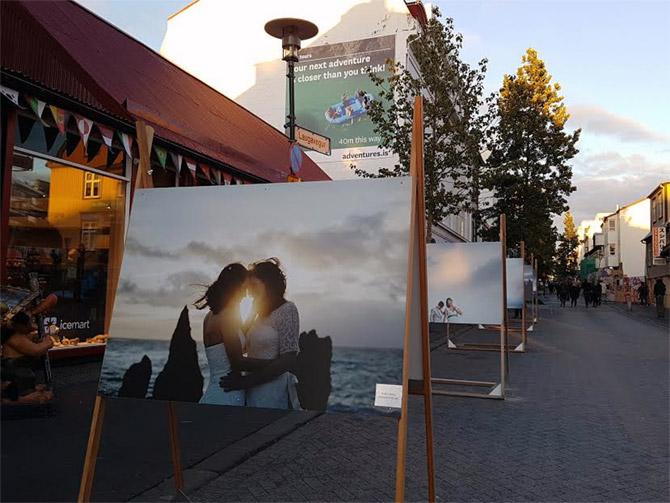 IMAGE: Celebrating Pride Week with pictures on the street.
A quick introduction to Icelanders and their lives comes from a 60 minute show, How To Be An Icelandic, at the Harpa, which is one of Reykjavik's most well-known buildings for art, culture and more.
It takes you through all the lessons one needs to learn to be an Icelandic -- from the way they walk, talk or the fact that they love to work and that most Icelanders have more than one job.
What's interesting is that Iceland celebrates a long list of festivals.
While I was there, the city was getting ready for a Pride March. From rainbow flags in all the stores and cafes indicating their support to some beautiful pictures on the street, the city did its best to welcome supporters from across the world.
Reykjavik is also known as the unofficial party capital. With many bars having live music and dance floors, the western influence is visible with an American Bar and the Coyote Ugly Bar in their main square.
Also, most Icelanders speak English and the women are beautiful (I am told three Miss Worlds have come from this country and, given what a small population it has, that is quite a feat) -- so asking them out on a date might be easier than you think.
Having a small population has its own problems. Which is why most Icelanders check an app -- App of Icelanders -- before they date to ensure the girl or boy they want to flirt with isn't a part of their family tree.
Try and sync your travel dates to an ongoing festival or ensure you get there on a weekend because Icelanders really do let their hair down on a Saturday.
Food for vegetarians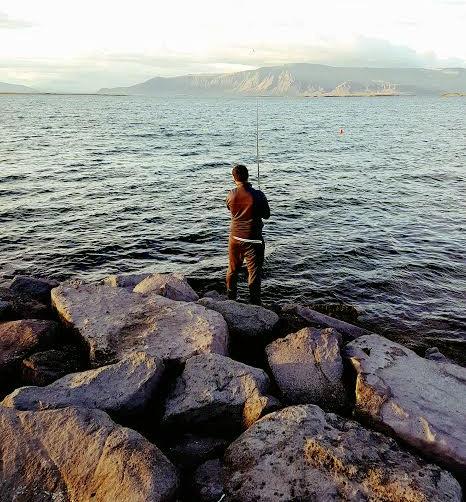 IMAGE: Fishing is a favourite pastime for Icelanders.
A big worry for me as a vegetarian was what could I eat in Iceland. I carried multiple ready-to-eat meals from India. Surprisingly, Iceland had multiple options for vegetarians like me.
My favourite was Glo -- which had a range of vegetarian soups, salads and organic meals. I was surprised to see the restaurant packed even on a weekday.
It's not just the big restaurants but even small ones like Kantina (on the circle tour) which had a minestrone soup duly garnished with coriander as an options for spice-craving travellers like me.
I also discovered, much to my excitement, dal and rice in an easy-to-eat and easy-to-heat cuppa. Moral of the story: You won't go hungry in Iceland.

For the meat eating traveller, Iceland is a paradise. From their famous lamb soup, puffin delicacies to a range of fish... Iceland is a smorgasbord of options.
For the Indian tourist craving for a taste of home food, there are a handful of Indian and Pakistani restaurants.
Italian, Mexican and Japanese cuisines have made their presence felt here too. While McDonald's is yet to make their way, familiar brands like Dunkin' Donuts and Subway are already here.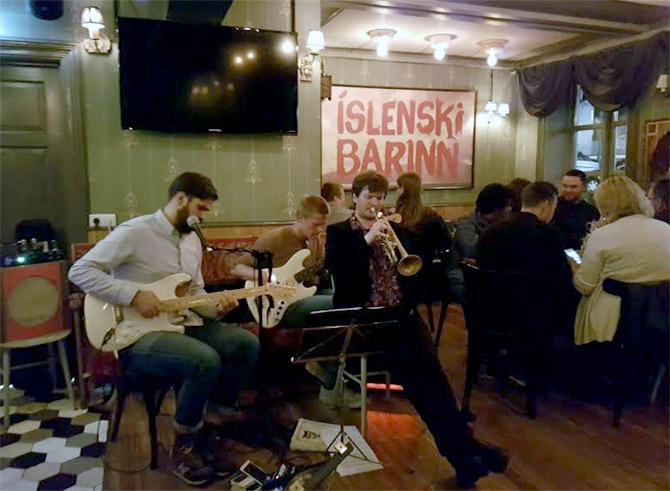 IMAGE: An evening of live music at Islenski Barinn.
Hot dogs are a classic favourite and fish and chips -- a British classic dish -- has entrenched itself well into the Icelandic palate.
Besides ice creams and gelatos -- from handcarts and little stores -- coffee is a big delicacy here. Don't forget to sample some of the home-brewed Icelandic beer and whisky -- it has an acquired taste, but it is still worth tasting.
Do's and Don'ts
Iceland is expensive not just for tourists but even locals as they import almost everything. A pack of chewing gum costs Rs 150 in the store. So remember to carry whatever essentials you may need to avoid a geyser blowing through your wallet.
Alcohol is best bought at the Keflavik International Airport. It's the cheapest option and also showcases a wide variety from homegrown to international brands.
WiFi is everywhere in the city, so don't worry about getting a local SIM, unless you are stepping out to the countryside.
The weather in Iceland is supposed to be very fickle and changes every few minutes. Arming yourself with a bubble jacket that cuts wind, protects you from rain and keeps you suitably warm is wise even in summer.
Tread cautiously especially when you're visiting natural wonders like waterfalls and hot springs because these are resources that Icelanders are generously sharing with us.
Much like the rest of Europe, dinner is served early and most restaurants shut by 10 pm. Shopping is best done by 6 pm as stores close early. Pick Icelandic wool garments or even designer wares with a clean, sharp aesthetic and which have a visible Danish influence.
Water in Iceland is clean, pure and sweet. Drink it straight from the tap.