Art historian Yashodhara Dalmia's book on the Sri Lankan artist, who fell so deeply for India that he even claimed Rajput descent, is a momentous publishing event, says Kishore Singh.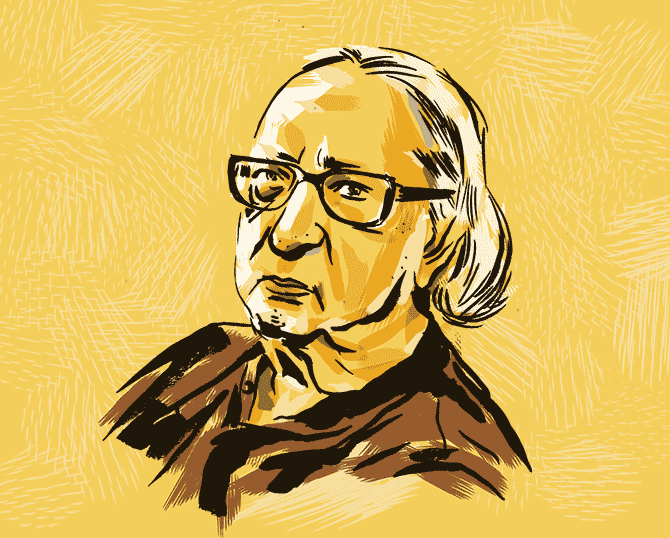 Illustration: Dominic Xavier/Rediff.com
Art historian Yashodhara Dalmia has done pioneering research on Indian artists and collectives that have ensured her an eminent position among readers and researchers in a poorly represented field.
It is this that makes her recent book on Sri Lankan artist George Keyt a momentous publishing event.
Dalmia pulls out all stops in delving into the life of one of South Asia's most significant artists, a troubled genius whose flawed life is laid bare through interviews, correspondence and meticulous enquiry.
Keyt, while a nationally important artist of the island nation, not only spent time in India, many of his subjects and themes were 'Indian', placing him squarely at the cusp of modernism in the subcontinent.
Born into a privileged Burgher family, he seemed destined for a career in art from his early life, but no one could have predicted the success he would come to enjoy, feted by the premiers of Sri Lanka and India, visited by celebrities such as actor Vivian Leigh, writer Evelyn Waugh, poet Pablo Neruda, and photographer Henri Cartier-Bresson.
He married twice, the first time within his own milieu, the second to the highly neurotic Indian, Kusum Narayan.
The time between the two marriages was spent with the devoted Manike, his daughter's nanny, whom his first wife, Ruth, found in his arms, and with whom he bedded in rural Sri Lanka to produce two sons.
Likened forever to Pablo Picasso, whose cubist vocabulary appears to inform his work, Keyt, though, was as influenced by the native Sigiriya murals as he was by Western distortion, his work distinctively 'voluptuous, sensual, spiritual and modern', according to Dalmia.
Tracking his Irish-Portuguese lineage to an Indian ancestor, Dalmia meticulously traced the artistic seeding of modernism in the country to the arrival, in Sri Lanka, from Paris, of Charles Freegrove Winzer in 1920 as its inspector of art, cleaving it away from the stagnant grip of the Ceylon Society of Arts (its parallel in India being the equally rigid Bombay Art Society).
Nor does she ignore the art scene in the country in which Lionel Wendt, and the role of its '43 Group played a substantial part.
Dalmia's is, therefore, many books in one book in which she provides us a glimpse not just of Keyt but his peers -- the artist Justin Daraniyala whose work Keyt mocked for being 'echo de Paris', the monk LTP Manjusri who rose to become a painter of repute, Geoff Beling, George Claessen, Ivan Peries, Richard Gabriel and others.
Keyt's most enduring relationship, however, was with Martin Russell (philosopher Bertrand Russell's nephew), who went on to chronicle the '43 Group, writing Keyt's biography, and whose lifelong correspondence with the artist appears, increasingly on Keyt's part, like a lover pining to be reunited with his beloved.
Russell spent several years in India, editing the magazine Thought, before returning to London.
His close observation of Keyt's work gave him unusual insight into his practice: 'Keyt was born only 20 years later than Picasso, so that they were artistically contemporaries. There are qualities in common -- long life, prolific invention, a love of expressive distortion. But whereas the art of Picasso is systematically destructive of Western civilisation, Keyt's affirms and extols a vast and ancient but, at the same time, a current way of life.'
Dalmia does well to draw on Keyt's relationship with India, which he first visited in 1939 to fall in love with the country, going to the extent of claiming Rajput descent.
Marg co-founder Mulk Raj Anand traced Keyt to his Elysian retreat to find 'the answer to my prayers that Asia might produce an artist, who, whatever he takes from Europe and America, returns to the native country...'
And of his 1947 exhibition in Bombay, The Times of India critic, and art collector, Rudolf von Leyden, observed: 'The greatest merit in George Keyt's painting is his courage, his inquisitive spirit and his originality, which asserts itself in truly oriental creations.'
'If he speaks the language of Picasso, he does so in a rich and meaningful idiom of his own.'
Or, as Len van Geyzel wrote in Marg, Keyt can be credited for making 'art in Ceylon adult'.
Dalmia traces Keyt's career from his earliest, accomplished works that include nudes (Portrait of Govindamma, 1928), the incandescent murals at Gotami Vihara in the 1930s, before moving on to the sensual lines and distortion of planes that would identify his style to art lovers in the 1940s and 1950s, to, ultimately, a vapidness in his declining years.
She reconciles his constant comparison with Picasso to Keyt's insistence that it was the Kalighat and miniature paintings and the influence of Jamini Roy that led to the creation of his 'Asian sensibility'.
'George Keyt's genius lay in melding together the metaphors of modernity in a wide sweep from Picasso and Braque to Jamini Roy and F N Souza and envisioning his own text of contemporaneity. He is also one of the few artists who articulated the religious and mythological past of India in modern terms.'
The book, like Keyt's work, will survive time.