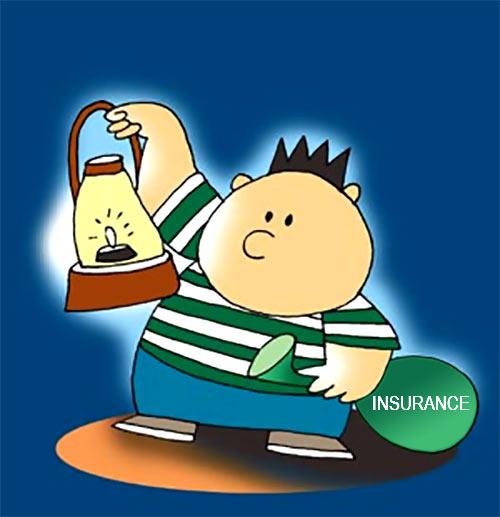 Make a fresh start to this New Year with an appropriate insurance policy
Illustration: Uttam Ghosh/Rediff.com
If you are thinking of taking a resolution this New Year, then a review of your insurance policies can be the best option.
Need of insurance review
Situation and need never remain constant. They keep changing and that's why updating your insurance policies, according to your changing need and situation is very much necessary to get the maximum benefit from them.
Imagine your situation at the start of this year (2016) and compare it with your current situation; many circumstances and obligation must have changed in this one year span. You can imagine that the conditions which you analysed while buying the policy at that time are now, not the same.
With advancement in time, our responsibilities also increase, which can only be fulfilled if we maintain the pace of change in life. Thus, it becomes necessary to keep updating your policy according to your current status and what could be a better time than this New Year.
Life insurance review
Buying a life insurance policy and just paying the premium to keep the policy active will never work for you. Your policy will remain active, but it might be possible that it will turn into a trash because of your changed life and needs.
Imagine a situation where you bought a life insurance policy five years ago and decided the cover amount, riders and other factors, according to your situation at the time of the purchase of the policy. But in between these five years, you got married, you have a child now, you took home loan and your lifestyle also improved.
Now the life insurance policy which you bought 5 years ago will be of no use because you didn't review your policy at critical stages of your life.
Factors to consider while reviewing
Beneficiaries: Never miss to review the beneficiaries. You need to check whether the beneficiaries are still valid or not. A divorce or any other life event requires reviewing your beneficiary.
Premium amount: In some policies, the premium amount can increase with time and you need to check at regular interval whether the new premium will fit into your budget.
Sum assured: The sum assured needs to be increased on critical life events such as marriage or becoming a parent, and similarly the sum assured needs to be decreased with decreasing responsibilities.
So make required adjustments to your sum assured as per changing needs and situation.
Rider: You may not have added a rider like an accidental death rider to your insurance policy because your job didn't require any field work, but your new job which is totally market based requires such riders to provide 360 degree protection from unfortunate events.
***
Motor insurance review
People stop thinking about their motor insurance policy, the minute they purchase it. But such type of negligence increases your risk on the road and makes you more vulnerable to accidents and mishaps.
Even after buying a perfect motor insurance policy, you need to keep reviewing your policy to match your current needs. A change in driving habits, installation of new devices, change in driver, etc., demands review of your motor insurance policy.
Factors to consider while reviewing
Vehicle cover: Change in vehicle or modification to vehicle requires a review of your vehicle cover. Having the right amount of cover for your vehicle will allow you to get a full refund of your car in case of total loss, damage or theft.
Driver cover: Reviewing your driver cover is a must because change in driver or addition to driver's list in your motor insurance policy needs to be informed accordingly to the insurer otherwise a person driving a car without being insured under the driver coverage increases the risk on the road.
Premium price: It may be possible that a new policy has been launched which gives you the extra benefit in the same price as your current policy or you might find an existing policy which you missed out and which gives the same benefit as your current motor insurance policy but at a lesser price. Such situations demands review.
Personal information: Always review your personal information like your address, phone number, driving habit, etc., on your insurance policy and if you find any changes, make sure you update it.
***
Health Insurance Review
Reviewing your health insurance policy can help you save a significant amount of money and can widen your area of coverage by minimising the exclusions. Health care cost is on the rise and ignoring review of health insurance policy in such situations can burn a deep hole into your pocket. It is always advisable to review your health insurance policy once a year.
Factors to consider while reviewing
Coverage list: The coverage list includes all the basic covers which your health insurance policy provides. There might be some new coverage in the market or you might need an additional coverage due to change in your situation. So review your coverage list of health insurance policy to keep it updated.
Coverage amount: With the current trend of increasing health care costs, reviewing your coverage amount becomes a necessity because a low sum insured in case of hospitalisation can spell disaster.
Premium price: Always review your premium price to enjoy the maximum benefit at a minimal cost.
Sub limits, deductibles, co-pay and other costs: Never ignore the cost which you pay from your own pocket while buying health insurance policy. The cost includes sub limits, co-pay, deductibles, etc. If the cost from your pocket is increasing, then it's time to make changes.
However, if you don't have an insurance policy, then it's the best and high time to buy an appropriate insurance policy because it's never too late to start.
By purchasing a policy now, you will be able to make a fresh start to your life and to the New Year with less risk and better financial security.
You may also port your insurance policy as per portability conditions to change your insurer or plan as per your new requirements and financial conditions. So welcome this New Year with the best resolution of reviewing your insurance policy.
It will allow you to keep your insurance up to date according to your current needs and you will be able to make a fresh start to this New Year with an appropriate insurance policy.
Harjot Singh Narula is founder and CEO, ComparePolicy.com