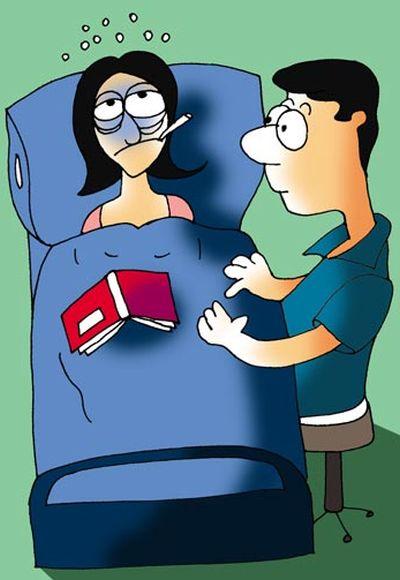 Naval Goel explains the importance of day-care health insurance
Illustration: Uttam Ghosh/Rediff.com
Today's life is extremely fast paced. Everyone is running to achieve their goals in personal and professional lives. Medical treatments have also kept pace with our fast lives and as a result treatments like cataract, gall bladder removal etc. which used to take few days, can be now treated within 24 hours.
However, does that mean the expenses of these treatments have also gone down? Of course not! The treatment costs have only gone up. Thus, day-care health insurance was introduced.
What is day-care health coverage?
Day-care health coverage looks after all the expenses for tests, diagnosis and procedures that does not require hospitalisation and can be taken care of within 24 hours.
What is the benefit of day-care health insurance?
If you are thinking that you do not require any coverage for day care procedures, then you are making a grave mistake. Nowadays, the over the counter expenses like various tests and diagnosis can burn a big hole in your pocket. Few tests can cost you thousands. So, you just cannot ignore the cost factor.
The biggest benefit of day-care procedure is that it will save your hard earned money.
How to choose health insurance on basis of day-care procedure?
Nowadays, almost all companies provide health plans that cover day-care procedure. However, the benefits of some indeed are better than others. So, whenever you buy medical coverage on basis of day-care procedure, keep these points in mind:
It usually happens that whenever a person sees variety of treatments covered under day-care procedures, s/he becomes excited. However, it is advisable to focus on broader categories like oncology, urology etc as they will cover multiple procedures under them. We are no expert nor doctor, so, it is obvious, we might not know all type of surgeries mentioned in the form nor we are free enough to Google everything, thus, it is better to go for the broader categories that we can at least guess.
There is OPD (Out Patient Department) clause that not all insurance policies consist of. It means that if the insurer didn't get hospitalized for at least a day or has a minor treatment which is not mentioned in day-care procedures, then he/she will not be paid. Hence, be sure that your insurance actually has OPD feature so that you get paid by your insurance company.
What treatments are included in day-care procedures?
Some of the most common categories covered under day care procedures includes treatment of nose and nasal sinuses, operation of the ear, treatment of the subcutaneous tissues and skin, Ophthalmology- Eye treatment, Orthopedics (Bones).
Beside these, day-care procedure also includes urinary system, heart, sexual organs and cancer treatment as well
Thus, day-care health coverage is very essential in today's scenario. It will provide you relief and save your money but be sure to choose only that health insurance company which covers broad categories of treatments.
Naval Goel is CEO and Founder, PolicyX.com