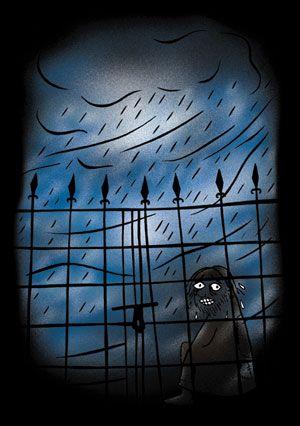 The bond forged with a mad man during a childhood Diwali still haunts Shishir Bhate. Illustration: Uttam Ghosh

Freaky weather just prior to that Diwali, a long time ago, almost threatened to pour cold water on our familial celebrations. Decades have passed, but that event is still etched on my mind.

It was an elegiac night. The heavens wept a grey drizzle. The wind whistled an eerie threnody. The occasional thunderclap, as lightning struck, sounded like the crack of doom. The world, meanwhile, slumbered, cowering in the safety of warm beds.

It was the bizarre weather that frightened me more than the rumbling heavens. But what awakened us was not nature's awe-inspiring orchestra; it was sharp, piercing human sobs, punctuated with spasmodic sighs, cleaving through the sounds of the night; a haunting wail that drives sleep away. Inquietude forced us to investigate.

My 10-year-old fingers clasped my father's wrist tightly as I waddled along with him, afraid of the damp darkness. We located the source of the wretched whimper.

It was a man sitting beyond our metal gates nestling between the neatly-trimmed hedges -- in anticipation of the forthcoming Festival of Lights -- huddled in the shelter that the overhanging canopy offered.

He was eating something off a packet that lay before him. Addressing the disconsolate soul in his most reassuring tone, my father enquired the cause of his grief.

The man went rigid, as if a bolt of lightning had skewered him, and whirled to face us. The terrified, blank glare, the contorted curling of the lips to bare his fangs, the feverish pitch of his incomprehensible gibberish, and the raw strength with which he clutched his packet, left not an iota of doubt in my young mind that the apparition before us was totally insane.

Dad cajoled him, but he let out a horrifying shriek and ran out into the wet night. We waited for a while and then returned to our snug beds.

Some time later, restless as he was, Dad got up to go to the kitchen. I followed. He packed some leftovers, wrapped them in a polythene bag, went outside and left the bag just beyond the gates.

Early next morning neither the packet nor the madman was there. Over the following week, with Diwali, almost at our doorstep, we left more packets for the unnamed man.

He came there religiously, grabbed the food and wolfed it down hastily. Animal instinct
told his demented mind that he had nothing to fear. He even bared his teeth in a crazy grimace, which Dad insisted was a smile.
My father looked upon him as if he were a lost child, and the man even went as far as to touch our hands hesitantly, expressing his affection.
On that fateful Diwali day, while returning home after stuffing myself with a variety of sweets at a friend's place, I noticed a crowd that had gathered around a largish vehicle. With school-boyish curiosity, I decided to investigate.
An accident had occurred: A man had jumped before the speeding vehicle. The poor driver was caught unawares; there was nothing he could do...
I looked down beneath the vehicle in shock. I saw the mangled remains of a body and the hideous face of the unnamed mad man staring blindly at no one.
Today, dozens of years later, the face of the mad man we never got around to christening, still haunts me. In typical childlike attitude I went on to burst crackers and gorge myself on Diwali delicacies that Gujarati homes are overflowing with, but that year's festival wasn't a happy one for my father. He was singularly sad when I told him about the accident and the dead mad man.
Diwali, the biggest of festivals for us, had always been a cheery occasion, a meeting of minds, a singing of hearts, a slapping of backs, a rash of sentiment, a splendid shindig...Especially for my father. And, in my exuberance, I had unwittingly spoilt it for him.
He kept a straight face and hugged me hard, possibly thanking the Lord for keeping me safe, but even at that young age I could gauge that he was strangely shattered.
Many Diwalis have since come and gone. It's been two decades since dad, too, passed away. But every Diwali, even today, my mom lights a
diya
(earthen lamp), silently praying not only for the family, but also for that forlorn mad man. Dad would have liked that, she says, not at all apologetic for what some might consider odd behaviour.
It was only much after the event that I deciphered the bond that had developed between us and the mad man. It was one of love, compassion, gratitude, trust. It was a transient bridge across an eternal chasm: A spider's flimsy web suspended between the self-reliant world of rationality and the melancholy, fragmented realms of insanity. A bridge spanning indelible memories across time.
Much like Diwali memories.
Shishir Bhate is Associate Editorial Director, News and Business, Rediff.com