Nehru's vision and master urban planner and architect Le Corbusier's principles of light, space and greenery are still evident everywhere in Chandigarh. Geetanjali Krishna finds a haven in the city.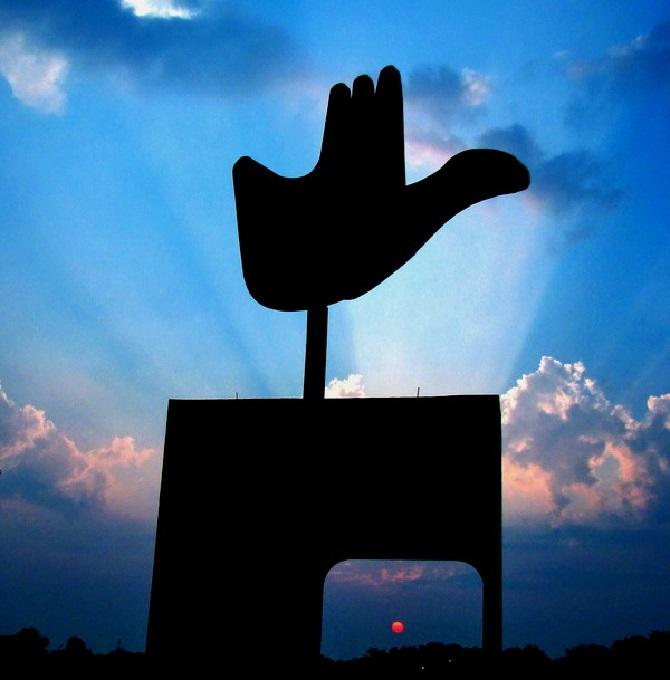 IMAGE: The symbolic open hand of Chandigarh. Photograph: Wikimedia Commons.
Last week, just as I was admiring a gigantic sculpture of an open hand raised in the sun, someone whatsapped me a photograph of President Trump, a closed fist raised in triumph after his poorly-attended inauguration. I was in Chandigarh, far away from the tumult of present-day American politics, yet all I could do was reflect on how political discourse has changed over the decades, the open hand of the Nehruvian era being replaced by Trump's closed fist and high walls.
Meanwhile, underneath the Open Hand, there was an amphitheatre where a dance troupe from Rajasthan was rehearsing for a performance. A smattering of leisurely visitors was sitting on the steps watching them.
I imagined that Charles-Edouard Jeannet, better known as the master urban planner and architect Le Corbusier, would be happy to see this scene -- this was probably how he envisaged his creation to be used.
Ahead lay Chandigarh's seat of power -- the High Court, Secretariat and Assembly, all designed by Le Corbusier -- set among verdant gardens and wide boulevards. A gardener working on the grounds told me that he really appreciated the careful attention to detail in planning the gardens.
"Every section has a different selection of trees," he said. "Something is always blooming in the gardens of Chandigarh."
I wandered through some of them, admiring Le Corbusier's vision as well as the present-day city administration that continues to keep it alive.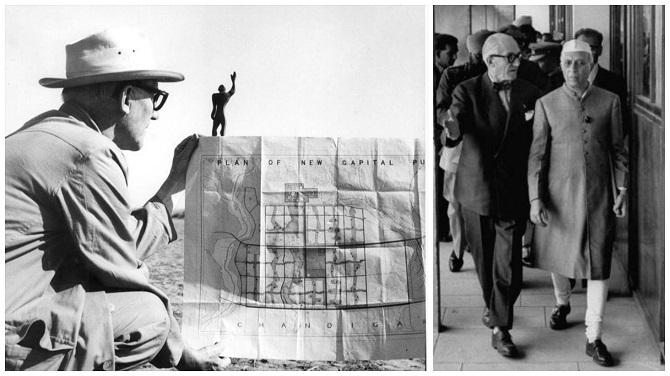 IMAGE: Left, Le Corbusier with the map of Chandigarh.
Right, the architect with India's first prime minister Jawaharlal Nehru, who conceptualised Chandigarh as a "new town, symbolic of the freedom of India, unfettered by the traditions of the past". Photographs: Courtesy Chandigarh.Gov.In and eBay.
After Delhi's polluted, chaotic streets, Chandigarh's ample pavements and tree-lined boulevards are a haven for amblers and cyclists. Le Corbusier's principles of light, space and greenery are evident everywhere -- huge parking spaces, pedestrian walkways and lots of gardens made the walking more pleasurable than it ever is in Delhi.
In the evening, we headed to Sector 17, the place with the best buzz, kebabs, whisky and shopping. Le Corbusier conceptualised Sector 17 as the city's beating heart, and as I walked past cars blaring pulsating music and local eateries emitting enticing aromas of roasting chicken tikkas, I saw further evidence of his urban planning vision.
Young people were hanging out in its ample and well-lit public areas, a rare sight in Indian cities. Just then, I spied a distinctive manhole cover. In the fading light, I crouched over it and was astonished to find some sort of a map engraved on it. Feeling a little like I was in some Indian version of The Da Vinci Code, I tried to make sense of the mysterious object.
Later, an old friend,Medhavi Gandhi, who recently moved to Chandigarh and has spearheaded the Heritage Lab, a unique venture that works with museums in India to make them more accessible and inclusive for families and children, shed some light on the manhole covers. "The drain covers are embellished with a map of Chandigarh," she explained.
She gave me a tour of the Government Museum and the Architectural Museum in Sector 10, which helped me get a sense of the young city's history.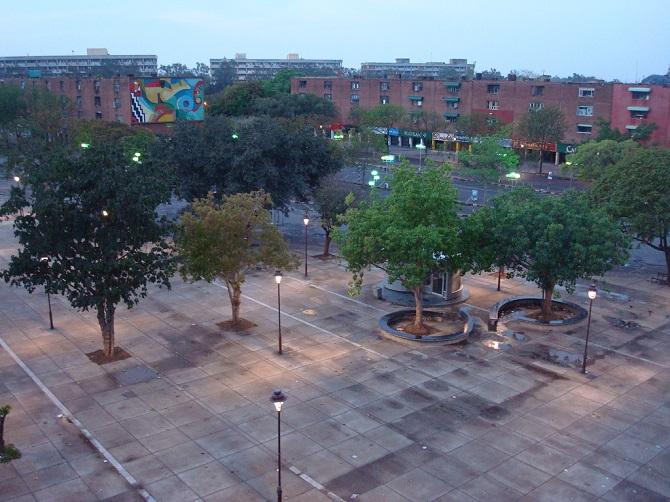 IMAGE: Sector 17 of Chandigarh -- the area Le Corbusier conceptualised as the city's beating heart. Photograph: Harinder Pal Singh/Flickr.com
In the aftermath of Partition, Lahore, the capital of Punjab, was lost to Pakistan and Jawaharlal Nehru wanted a suitable replacement.
Le Corbusier's modernist vision (in spite of his disastrous proposal to replace Marais, Paris's iconic and quirky neighbourhood with 18 office towers and an airport) appealed to Nehru. The two met, and Chandigarh was born.
Using photos, models, newspaper reports and architectural drawings, the Architectural Museum offers insights into the twin visions of Nehru and Le Corbusier. Nehru conceptualised it as a "new town, symbolic of the freedom of India, unfettered by the traditions of the past".
As we walked past the painstaking plans and exhaustive maps, I wondered if, in the effort to escape the restrictions of the past, Le Corbusier's rigorous set of urban dos and don'ts restricted locals in an entirely different way. Critics say that restrictions on the building of tall structures have impeded the city's economic development.
Historically, urban experiments to create the "perfect" city, haven't really succeeded, Brazilia (Brazil) and Milton Keynes (UK) being notable examples. In contrast, Le Corbusier's bold experiment continues to thrive, 60 years after it was built.
Sadly, such an urban plan was never repeated in India, which is why Chandigarh continues to offer a welcome respite from the chaos of Indian metros.