Maharashtra has a rich wealth of forts, more than any other state in the country.
'If nothing is done, some of the small forts may simply disappear in the next 50 years.'
Ranjita Ganesan reports on how a unique heritage can be preserved for future generations.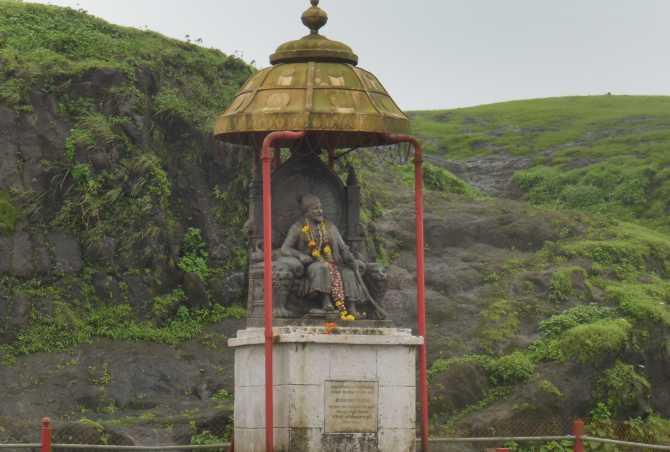 Photograph: Kind courtesy Vineet Menon/Wikimedia Commons
Men of all ages are roaming the ruins of what used to be the durbar hall in Raigad Fort, the erstwhile capital of the Maratha empire.
Most sport saffron kurtas or turbans, beaded necklaces and sunglasses.
Seen commonly are flags with an image of Chhatrapati Shivaji Maharaj and the words 'jaanta raja,' often waved enthusiastically by the youngest in the group.
Their chests, variously big and small, swell with pride as the men pose for photographs in front of a large statue of the warrior-king that is now behind a haphazard barricade of iron rods.
It is Shivaji Jayanti or the birth anniversary of the Maratha ruler, according to the Hindu calendar, when we visit the fort.
Tales of his valour evidently still inspire many in the state who are on a pilgrimage here.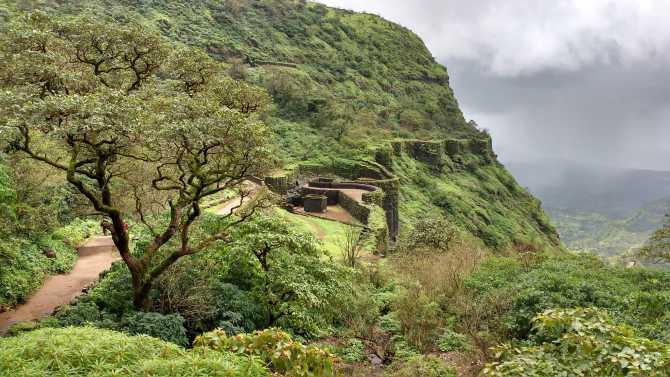 Photograph: Kind courtesy Vineet Menon/Wikimedia Commons
In March, Chief Minister Devendra Fadnavis of the Bharatiya Janata Party said he received the central government's approval to take up beautification of a few forts, beginning with a Rs 600 crore (Rs 6 billion) restoration of Raigad.
This came after an inauguration by his government in December of a Rs 3,600 crore (Rs 36 billion) project to erect a memorial for Shivaji in the Arabian Sea faced criticism, as people felt the existing heritage of the 17th century king was in more urgent need of attention.
Located at a height of some 2,700 feet above sea level, Raigad Fort, which was expanded and named the capital by Shivaji in 1674 when he was coronated, is among the most popular and perhaps most visited forts.
A ropeway that has been carrying visitors up to the structure for two decades is greasy and creaky, but ultimately indispensable. It takes less than 10 minutes and gives access to those who may not be able to take on an arduous two-hour trek from the base.
On busy days, as many as 500 people wait at a time, and five or six passengers are stuffed into cabins meant for four.
Other than one cultural notice board at entrances, there are only a few signs and no information plaques in the sprawling monument.
Local boys, who are licenced guides, are able to offer services in Marathi alone as of now.
Security is thin, with guards posted only at the main gate, and next to the statue of Shivaji, part of which had been found damaged by careless visitors.
Empty plastic bottles bundled in a polythene bag fly out of a tower, which once acted as a viewing spot for royal women. Wrappers of every variety have been discarded across the expanse.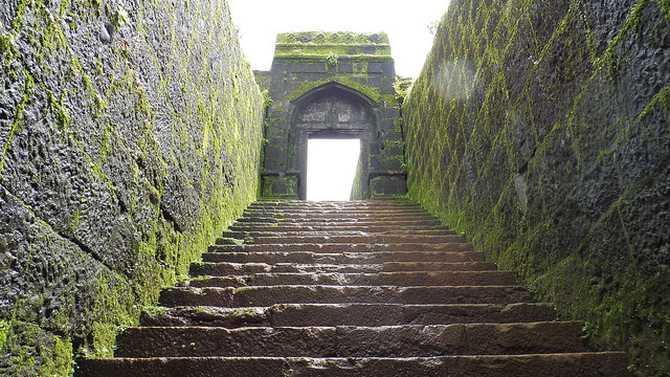 Photograph: Kind courtesy Vineet Menon/Wikimedia Commons
Raigad, with its rugged fortifications in black basalt snaking through the Sahyadri ranges, is a fine showcase for Maratha tactics.
It demonstrates how Shivaji preferred to conceal the main door between bastions, making it harder for enemies to spot and knock it down.
The forts won or raised by him were mostly functional, military forts.
The medieval granary, mint, marketplace and drainage system are still perceivable but in need of sprucing up.
Except for the rare bit of carving, they lack decoration. They reflect the seemingly simple, non-extravagant lifestyles of their inhabitants.
They were also notably built in vastly different terrains -- mountain, forest, and sea.
While the British had several of these forts dismantled to put them out of use, since then new damage has been inflicted on the structures by forces of nature and decades of neglect.
The Maharashtra Tourism Development Corporation manages guesthouses near the fort. Some pathways were laid by the Archaeological Survey of India to improve visitor experience in the 1990s.
One recent addition by the ASI is of a new teak wood door at one of the entrances.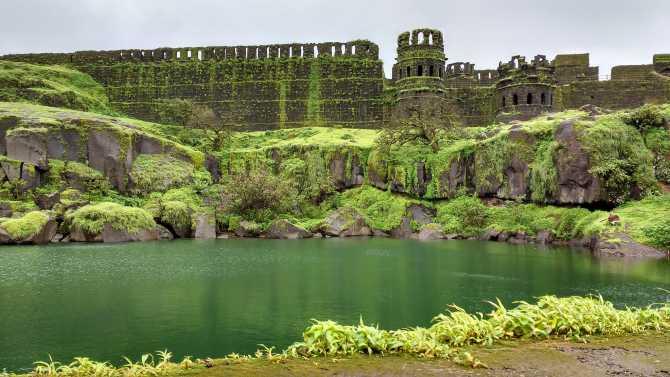 Photograph: Kind courtesy Vineet Menon/Wikimedia Commons
Maharashtra has a rich wealth of forts, more than any other state in the country, says Kurush Dalal, assistant professor of archaeology, centre of extra-mural studies in the University of Mumbai.
Erected by various rulers, they total roughly 350.
Of these, a few are monuments protected by the ASI, a few are under state care, and some are under neither, says V S Badiger, superintending archaeologist of ASI's Mumbai circle.
His department has not yet received confirmation on how much of the fund will be available to it, so it has not made any plans public.
Visitor facilities, cleaning and signages will likely be top priorities.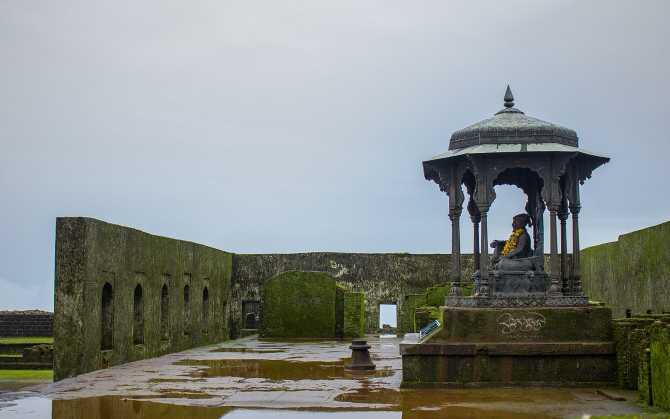 Photograph: Kind courtesy Rahul Bulbule/Wikimedia Commons
The multiplicity of historical accounts will add to the challenge of restoration.
Factual evidence will have to be convincingly separated from folklore.
Most people have a version of history that they believe in, and an opinion -- often one that is emotionally charged -- that they like to voice.
"If something is not done, they take issue with that, and if something is done, they will still have problems with it," says historian Pramod Mande, who wrote Gadkille Maharashtrache listing information about more than 300 forts.
Shivaji's legacy, because it is a sentimental issue, is routinely cited by Maharashtra's politicians. For years, the Shiv Sena had near monopoly on the subject.
The BJP began including the ruler in its campaigns around 2014 -- through slogans, the sea memorial, by nominating Shivaji's descendent Chhatrapati Sambhajiraje to the Rajya Sabha and with the recent plan for forts.
Other groups like the Sambhaji Brigade have jumped in, too, vandalising offices and monuments whenever they perceive something as an insult to their Maratha heroes.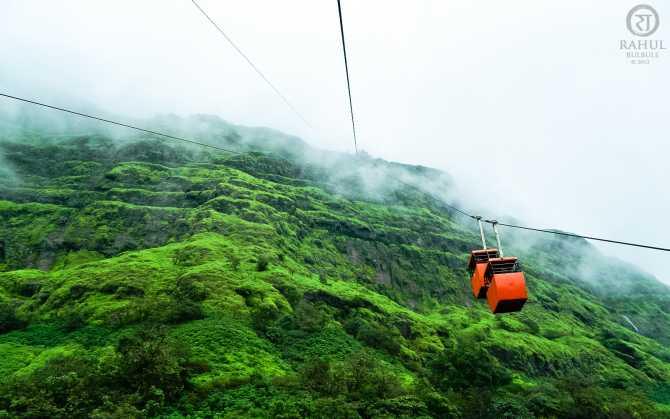 Photograph: Kind courtesy Rahul Bulbule/Wikimedia Commons
Pune historian Pandurang Balkawade, convenor of the state's forts conservation committee formed only a few years ago, says a new committee will likely be formed for the Raigad project.
Dalal observes that legitimate, educated persons will need to be appointed to lead the project.
For tourism to receive a boost, there will have to be improved security.
According to reports, forts in the state have suffered, with cannons stolen or their metal chopped up for scrap sale.
Mande says he often finds people snacking or playing cricket there. Lesser-known forts than Raigad have it worse.
These smaller structures, built on the way to larger ones, would engage the enemy in battle to delay their progress uphill; they are now obscured by overgrowth of vegetation.
In the absence of attention to the monuments, groups of trekkers had been taking interest in caring for them.
For a decade now, Mumbai's Durgveer Foundation has taken steps such as removing overgrown vegetation and trash from 30 fort sites.
They educate and involve locals in these initiatives too. Several more groups have popped up that clean defaced walls, decorated them with natural paints and de-silt water tanks.
But such well-intentioned efforts could sometimes be ill-judged.
If regulations are not brought in, there is a worry that some teams may inadvertently disturb ancient sediments that have the potential to help archaeological study.
Santosh Hasaurkar, founder of Durgveer, suggests the government should draw from the manpower of a few organisations like his and train youths to carry out work.
"If nothing is done, some of the small forts may simply disappear in the next 50 years." They should also employ people to stop visitors from carrying alcohol and plastic, he adds.
If tourism improves, it could offer alternative employment to youths in the areas known mainly for herding, farming and fishing.
Dalal notes there are many other forts that are forgotten and are crumbling. He gives the example of Paranda and Naldurg, saying they are unique specimens of medieval architecture but may not be considered a priority because they were south of the Maratha kingdom and not built by Shivaji.
It will be interesting to see if the move to preserve Maharashtra's history will go beyond the politics of emotions.