Ritika Kochhar finds out how Indian miniatures, which were once buried in manuscripts, ended up drawing collectors the world over.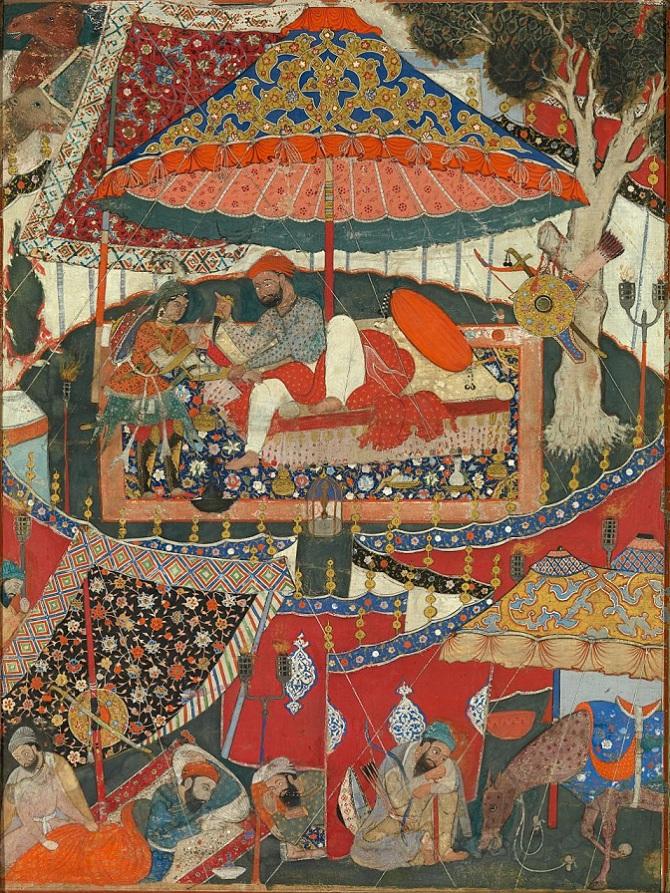 IMAGE: A painting from the Hamzanama. Just 61 pages are known to have survived, and when a single page was auctioned at Sotheby's in London in 1986, it sold for £148,000 (₹11.9 crore). Apart from the delicacy and detail, it's the rarity of miniature art that has fascinated collectors the world over, including King George III. Photograph: Courtesy ngv.vic.gov.au.
Shah Nawaz Khan, a historian who accompanied Nadir Shah of Afghanistan during the raid on Delhi in 1739, wrote that "among the loot that Nadir Shah took from the Red Fort were the twelve volumes of Akbar's Hamzanama or Daastan-i-Amir Hamza, the exquisite 1,400-page retelling of the legendary exploits of Amir Hamza.
Mohammad Shah, the emperor of India, sent an emissary after Nadir Shah to say, "Take anything but the Hamzanama."
And Nadir Shah is reported to have replied, "Ask for anything but the Hamzanama."
Since Nadir Shah had also made off with the Peacock Throne and the treasury, including the Kohinoor, this is most likely an exaggeration. But Shah Nawaz Khan was so fascinated with the Hamzanama that he wrote, "… No one has seen such a gem nor was there anything equal to it in the establishment of any king…"
Nadir Shah was killed soon after leaving India and the Hamzanama was lost at camp. Just 61 pages are known to have survived, and when a single page was auctioned at Sotheby's in London in 1986, it sold for £148,000 (₹11.9 crore), purportedly bought by Paul Getty.
Similarly, there's a story about how the curator of the Lahore Museum, eschewing any personal belongings, carried back a collection of Pahari paintings when he came to India during Partition. With time, these became the centrepiece for the miniature art collection at the National Museum, Delhi.
Apart from the delicacy and detail, it's the rarity of miniature art that has fascinated collectors the world over, including King George III.
Sonya Quintalla, curator at the Cleveland Museum of Art, says, "American audiences are drawn to the intensity of dazzling colour and endlessly fascinating imagery on what seems to be an impossibly minute scale, whether narrative, symbolic or iconic."
But even in the West, Indian miniatures were buried in general manuscript and miniature auctions till specialised sales of Indian miniatures began in 1967.
Equally importantly, in the past few years, art market research firm ArtTactic has noted an "increasing domestic demand for Indian antiquities, with auction sales in this category up more than 59 per cent since 2015. Within this category of classical art, which also includes higher-value statues, it is miniatures that have grown the most with an 84 per cent increase in auction sales.
In April 2015, a rare early 18th century painting called A wandering yogi faints before a Princess, signed by Dalchand, fetched ₹1.16 crore at a Pundole auction, more than double its price estimate of ₹50 lakh.
In December 2015 and 2016, Basohli miniatures have sold for ₹96 lakh and ₹93.25 lakh respectively at Saffronart and Christie's auctions.
Famous Indian collectors of contemporary art like Kiran Nadar also collect miniature art for their private collections.
Last year, The Metropolitan Museum in New York, The Los Angeles County Museum of Art and The Cleveland Museum of Art in Ohio all held exhibitions on different aspects of Mughal art.
"These three major exhibitions on Indian paintings across the US are indicative of a trend and are part of a crescendo that has been steadily increasing for about ten years," Quintalla says.
There are several reasons for augmented interest among curators for Indian painting exhibitions in the West.
One is that major collections that began to be formed in the mid-1900s, when many important paintings were available on the market, are now being offered to museums like the Met and the Cleveland Museum of Art, as the collectors near the end of their collecting careers and wish to see their holdings satisfactorily placed and catalogued.
Another is that improvements in standards for the conservation and display of paintings have led to twice yearly rotations of works on view and an increase in curatorial research and expertise.
Patrons who've donated their collections to LACMA include Hollywood actor Michael Douglas and his first wife, Diandra.
Another important reason for the rise in interest in miniature art is digitisation and the prospect of viewing artworks online.
As more museums and auction houses digitise their collections and allow closer focus on details and free downloads, it is possible to see artworks that aren't on regular display at museums.
Indian miniatures are also currently hugely undervalued. Sotheby's sold a page from the Iranian Shahnameh of Shah Tahmasp for £7.43 million (₹59.9 crore).
---
Also read:
---
But a cautionary tale for buyers is the revival of interest in Tanjore paintings in India in the 1980s.
With their rich blend of mythological subjects, bright colours, gold foil and jewellery, they became must-buys for households across India. Soon dealers and auction houses got interested and by 1992-93, there was such a shortage that the fake market took over.
Jaya Mani, one of the foremost gallerists involved in this resurrection, finally stepped away in 1996, when a piece she'd sold fell off the wall and a closer look revealed that it was new work painted on old wood.
"There's so little out there that is original. The old ones are in poor condition. And even I couldn't tell the difference," she says.
"But look at the Kannadiga Surpur miniatures next," she adds. "They are beautiful."
Surpur miniatures are recognised as some of the finest miniature art forms in the world and are based on Golconda miniatures. They originally rose between 1773 and 1858 in Surpur, a small town in Karnataka, and are in the Salarjung Museum, Hyderabad.
Similarly, entrepreneur Pooja Singhal has worked with a team of 25 artisans for five years to create modern versions of Pichwais: decorated cloth hangings that traditionally hung behind the Srinathji idol of Nathdwara, near Udaipur.
Among the various ways in which she's transformed traditional Pichwais include making them on Basra paper, changing the size to a variety of smaller ones so that they can be easily put up in modern houses, experimenting with Kota and Mughal miniature styles and sleeker designs.
They have, most recently, been displayed at the Kochi Biennale 2017.
It's not just Indian artists who are reinventing miniature art.
Olivia Fraser, a kinswoman of James Baillie Fraser, who commissioned local artists to paint for the famous Fraser Album in the early 1800s, was influenced by Nathdwara Pichwai paintings and early 19th century Jodhpuri paintings. She decided to study the traditional Indian miniature painting techniques under Jaipuri and Delhi masters.
The meditative quality of her works ensured they were sold out at Art Dubai 2017.
As the interest in miniatures grows, there's a lot out there still to be explored -- both old and new.
For a look at the old, Google Arts and Culture has tied up with the National Museum in Delhi to show their best works, while the Khuda Baksh Oriental Library in Patna has mostly unseen copies of Akbar's Timur Nama, Shah Nama, Padshah Nama, Diwan-e-Hafiz and Safinat ul- Auliya, which carries the autograph of Mughal emperors and princes, and Maharaja Ranjit Singh's book of military accounts.
For the new, art across South Asia is reinventing itself.
Quintalla's words about the Mughal Emperors rings true even today, "It was a time when India was interlinked through trade and diplomacy on a global stage, and paintings and artists both documented and formed part of those interactions."
Scroll down for more stories on India and its art