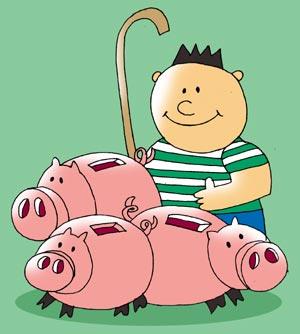 Money saved is money earned, and cutting down your expenses could well be the single-most important step towards an organised financial life.
Naval Goel shows you how to keep your finances organised.
Illustration: Uttam Ghosh/Rediff.com
Lack of organisation can harm your finances much more than just being short of cash. Faltering on credit card payments could lead to late fees.
At the same time, not keeping track of your bank account could lead to a fall in your average minimum balance, resulting in levying of charges.
1. Review your budget at least once every month
Your bills may change on a monthly basis. Revising your budget and adjusting expenses, as your bills come is the first step towards a sound financial life.
In this way, you won't have to empty your bank to pay the expenses.
Also, factor in the maximum cost in your budget so that you have buffer money. For instance, electric bills shoot up during the summer months of May and June. Maybe you are paying Rs 5,000 during peak summer, which is otherwise Rs 3,500 in the other months.
Now, if you had based your budget on the winter months, you could be in for a major surprise, not knowing from where to extract the extra money. You may have to scrap that weekend trip, until a more opportune time.
Since these two months may signal a change in your expenses, you just have to redo your budget to see which other costs can be pruned. An easy way out is to put away some extra money from your earnings every month to fund the expenses for those months when there's an extra outflow of cash.
Worse still, what if you don't have a budget at all?
Well, stop reading right here and make one as early as possible.
Start by writing down your expenses as you believe they will unfold over the months. Start tweaking the budget at the end of the month by adjusting other expenditures, when one expense is bigger than expected.
2. Plan your future
All of us have our goals and aspirations. They may get expensive sometimes. You may need money for your children's higher education. Or maybe you want to go on that dream holiday to Europe.
Try to fund these goals little at a time. You may not be able to meet them simultaneously. But at least you can make a beginning.
Having an organised life plan goes a long way to ensure financial security.
3. A single place for all your bills
Most bills arrive in the electronic form these days. But some utility bills like municipality taxes, electricity, water etc. may still come in the printed format. Life insurance premium reminders may also come via regular post.
To store your bills, keep them where you usually write cheques or make online payments. You may archive the bills for future reference or shred them to pieces once they are paid.
Keeping scanned copied of the bills in your computer is a good idea. Make a folder and save them. Give the folder a logical name so that it can be easily retrieved.
4. Pay bills promptly
Pay your bills as soon as they come. If you have included the bills in your monthly budget, you should have money in your bank account to pay them off. At least pay them within the stipulated date.
Don't default because it usually attracts fines. Credit card bills are the worst. Besides the normal 3.49 per cent retail interest, which translates to more than 41 per cent in a year, late fines on credit cards could be as high as Rs 1,000 for each cycle and send your budget into a tailspin.
On the flipside, pay proper attention to the bills that come both physically and electronically. You won't want to pay the same bill twice.
Schedule an electronic payment system where the money will be automatically debited from your bank account. It's hassle free, environment friendly, and relieves you of delayed payment woes.
5. Know your debts
It's important to know how much you owe towards your student loan, car loan, and credit card. Keep the numbers in a single file, or maybe on your computer, from where they can be easily retrieved.
If you have no plan in place to emerge out of your debt, it's time to have one. Try paying off the smaller dues first and then move to the next smallest amount. But as already said, pay off your credit card first.
6. Verify your salary deposit
Most companies these days use NEFT to pay salaries where the money is deposited directly into the employee's bank account.
Schedule all your payments after your salary date.
Link your mobile phone to the bank account so that you get instant updates whenever your salary arrives. Subscribe to internet banking so that you can check your account whenever you like.
7. Have two bank accounts
Have one account for spending and one for the bills. This will help prevent accidental spending of bill money on a dinner at a restaurant that was allotted for house rent. But you have to remember transferring the money from one account to another.
One of the two accounts could be used to build an emergency fund. Transfer whatever money is left in your salary account after paying off all the expenses to the new account. Every month, start with the minimum balance. This will help you to have enough money for exigencies.
8. Look to invest
Money begets money. Try to invest your excess of income over expenditure wisely. You may invest in stocks, realty or in other appreciative assets. But perhaps the best investment is to opt for a systematic investment plan (SIP) in a mutual fund.
Invest over a long term horizon and you can pocket lump sum money during retirement. Mutual funds are linked to the stock market but unlike investing in shares, where you have to track the price movements daily, a fund manager will manage your investments.
You can start with as little as Rs 500 and increase according to your risk appetite.
It doesn't take much pain to organise your financial life. A frugal lifestyle, coupled with regular investments can help you retire with sound solvency. You simply need some discipline.
Naval Goel is CEO and Founder, PolicyX.com