Though England have fought brilliantly in the World Cup so far, they haven't played very well, the team's wicketkeeper and makeshift opener Matt Prior said in Colombo ahead of the quarter-final match up with Sri Lanka on Saturday.
"As a team we have put up fantastic fights," Prior said.
"That win against the West Indies showed that we have a huge amount of fight in us. But we haven't played our best cricket by a long way. We are going into the quarterfinal as underdogs against a strong Sri Lanka. If it all comes together, I'll be very happy," he added.
On England's strengths, Prior said that the team's batting and fielding have improved by the match.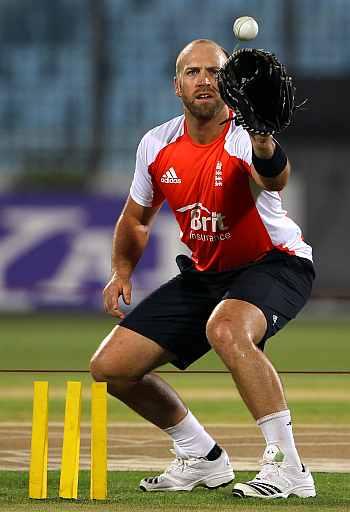 "I think we have improved form the first few games," he said.
"I think the spinners have been fantastic. I think (Tim) Bresnan is doing fantastic. As a bowling unit, as a fielding unit, we are certainly on the upward trend. That is important. We've learnt a lot of lessons and have got rid of a lot of cobwebs," he added.
If England go the distance here, nothing else in their recent history will compare, as it will mean that they have won both the Ashes in Australia and the World Cup in one winter.
"We've came here to win the world cup and if you leave the World Cup having not won it, we will be disappointed," he said.
"We have fought very very hard. We haven't played well. But we are in the quarter-final. To win a World Cup and an Ashes in a winter will be great. It is something everyone in this dressing room will want to do," he added.
On his own batting, where he has struggled ever since being promoted after Kevin Pietersen's exit, he said he was clueless as to why he could not convert his starts into big scores.
"I haven't scored the runs I have wanted," he said.
"I seem to do the hard work and get out. I am absolutely bewildered by it. I need to step it up. In Tests, I have scored 100s. Some say it is because of technique, but you don't score Test 100s without technique. Something hasn't clicked. I still got a huge amount of belief," he added.
Asked if he would prepare differently if he was intimated where he would bat, Prior said it was more about mental preparation than net practice at this stage of the tournament.
"We have hit a lot of cricket balls in the last five months," he said.
"So it is more a mental side of the game for us. It is different from opening and middle order. That way preparation will be different. I will know at the end of practice today where I will bat," he added.
Photograph: Getty Images