England batsman Kevin Pietersen will have an operation on a hernia after the World Cup, the England Cricket Board (ECB) said in a statement on Saturday.
- Ireland gave us a good wake-up call: Trott
"As the symptoms have been getting worse... the appropriate course of action is for Kevin to undergo a routine operation upon his return to the UK after England's World Cup campaign," ECB chief medical officer Nicholas Peirce said in a statement.
- England face stern test against South Africa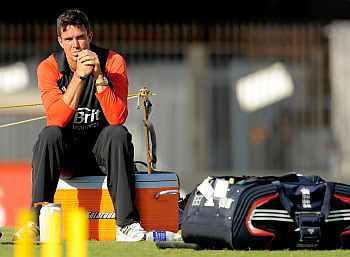 "Kevin will continue to be managed throughout the World Cup and we would expect him to make a full recovery following a recuperation and rehabilitation period of approximately six weeks after the operation," he added.
Pietersen was quoted as saying: "I'm obviously extremely disappointed to have picked up this hernia injury but I've been able to manage it so far throughout the World Cup and will continue to do so under the guidance of the England team's medical staff.
"It will no doubt impact my preparation but careful management should see me still play a significant role in the team's campaign.
"Representing England in a World Cup is something I've been looking forward to for the past four years and I'm excited by the prospect of helping the team achieve something special here on the sub-continent against the best teams in the world," he added.
Pietersen added he would be fit for the start of the tours by Sri Lanka and India later in the year but would be unable to fulfill his commitments in the Indian Premier League.
So far, Pietersen has scored 39 against the Netherlands, 31 against India and 59 in the shock defeat by Ireland on Wednesday.