West Indian pacer Ravi Rampaul said the ball with which he dismissed Indian batting icon Sachin Tendulkar in their World Cup match was the "best" of his fledgling career so far.
"It was the best ball of my cricket career," the 26-year-old pacer of Indian origin said after the match which the Caribbeans lost by 80 runs on Sunday.
Rampaul got Tendulkar in the match's first over itself, inducing the Indian opener a nick to wicketkeeper Devon Thomas.
Although the umpire ruled him not out, Tendulkar walked to give Rampaul a massive success in his maiden World Cup appearance.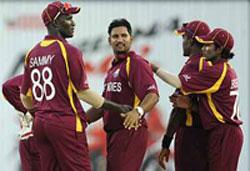 "It was one of those moments in life you dream of. When I saw him walk I felt great. It was an amazing feeling. I wasn't sure how to celebrate.
"Here was I, in one of the biggest matches of my career, getting the wicket of one of the greatest batsmen. I felt really great to get such a massive breakthrough for the team," Rampaul said.
Images: Female fan fare drives World Cup
Rampaul finished the match with career-best of five for 51 and though the West Indies lost the match, the pacer was happy to have made an impression.
"I was happy to get into the team and play my part," Rampaul said.
"It was very exciting to play in front such a large crowd on such a big stage...I was happy to be able to make the most of my opportunity.
"The pitch had some extra bounce at the start of the India innings and I knew if I got the ball in the right areas I would be successful," said Rampaul.