US carmaker Ford on Wednesday said it will expand export market for its compact car Figo to Mexico and other nations in North Africa, the Caribbean and Middle East as part of plans to make India a global small car hub.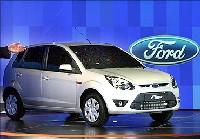 The company, which plans to launch eight models in the country by the middle of this decade, said it could consider adopting a similar strategy of producing only in India for some of the new products, as it does with the Figo.

"India will be the small car hub for Ford. India will be the sole producer of Figo in the world and there is no plan to assemble the car anywhere else," Ford India President and Managing Director Michael Boneham told reporters here.

When asked if similar strategy could be adopted for other models that are slated to be launched in India he said: "It will depend on the demand for those models from other markets and the economies of scale but there is always an option."

Ford had earlier announced that it will launch eight models in India by 2015. In two weeks time, the firm will ship 1,500 units of the Figo to Mexico and expects to tap the potential of the fast growing market, he added.

"Besides, we will be exporting to markets in North Africa, Middle East and the Caribbean," Boneham said.

Currently, Figo is exported to South Africa and Nepal. Last year the company had exported a total of 12,000 cars, out of which the majority was the Figo and Fiesta accounting for about 1,200 units.

Boneham, however, said Ford India's focus will be the domestic market and priority would be to meet the demand here.

"In January we sold 10,000 units for the first time, making us the fourth largest in India after Maruti Suzuki, Hyundai and Tata Motors. We intend to build on that," he said.

In order to balance demand from both domestic and export market, he said Ford can enhance output at its Chennai plant.

"Currently, we are producing 2,800 units per week in double shift. If need be, we can do a third shift that will make the plant reach its full capacity of 200,000 units per annum. But as of now we have not taken any decision on starting a third shift," Boneham said.

Commenting on model line up for the year, he said the company will be launching the new Fiesta but declined to share details.

He also said Ford has phased out its sedan Ikon. On the export of engines from its Chennai plant, Boneham said currently Ford's Thailand unit sources from India and the company is looking to "further opportunities" elsewhere.

Ford has invested $500 million at its Chennai facility, doubling car production to two lakh units annually and to build a new engine, with a capacity of 2.5 lakh units per year.