They may have flopped at the World Cup but that has not stopped Australian cricketers from asking for an 80 million dollar increase in their payment deals prompting their irate Board to snap negotiations.
According to a report in The Daily Telegraph, the players, who are under intense scrutiny for failing to defend the World Cup, are adamant on the hike.
"Australia's out-of-form cricketers are at war with their employers after demanding an 80-million dollar increase to their payment pool," the newspaper said.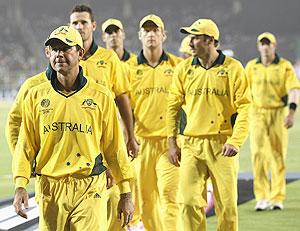 "The stunning claims have forced a breakdown in negotiations between Cricket Australia and the players. The cricketers have demanded up to 80 million dollars from the sale of shares in the eight new city-based Big Bash teams and the WACA redevelopment in Perth.
- Images: India end Australia's 12-year reign
"Cricket Australia officials are so angered by the claims they have vowed not to resume negotiations until the claims are taken off the table," it added.
Australia were knocked out of the World Cup after a five-wicket loss to India in the quarter-finals and the future of the team's senior players, including skipper Ricky Ponting, is under the scanner.
Australia's cricket associations have been permitted to sell shares in Twenty20 Big Bash franchises, which could earn them more than 200 million dollars.
Photograph: Getty Images