The quarter-final line-up has been drawn, following India's 80-run victory over the West Indies on Sunday. Here is the line-up for the 2011 World Cup quarter-finals that commence on Wednesday (times IST):
Pakistan v West Indies, Dhaka, Bangladesh - March 23 (1400)
Australia v India, Ahmedabad, India - March 24 (1430)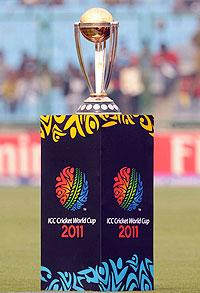 New Zealand v South Africa, Dhaka - March 25 (1400)
Sri Lanka v England, Colombo, Sri Lanka - March 26 (1430)
The winner of the third and fourth quarter-finals will clash in the first semi-final on March 29 in Colombo while the winners of the first two quarter-finals will meet each other in Mohali, India, on March 30.
The World Cup final will be held at Mumbai's Wankhede Stadium on April 2.